too many liars are singing songs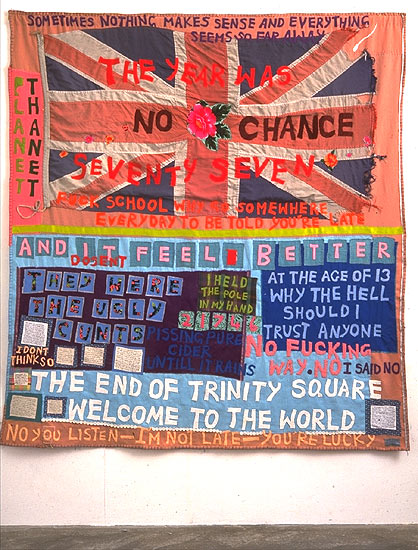 no chance, appliqued blanket, by tracy emin, 1999
Skirt
-- by Mark Halliday
The very fact that her skirt swirls
bespeaks something that compels my interest
as if not because the skirt covers her ass and thighs
as if I mean not only because given a chance I'd want
very very much probably to help her take the skirt off
in a fantasy bedroom, but for some more lovely reason
more lovely I mean because more mysterious
when she swirls my head turns on my not-merely-biological neck
to follow the play of shadow in those folds of cloth–
in the swirling there is some meaning that draws me
without specific reference I'm saying to her vagina
somewhere beneath the skirt and what my penis might get to do;
it's about a flowing quality in life I'm serious
about something flowing like light among branches
on a windy day, the truth or a truth of how
the beauty of our life is like a winding river
under rapid shifting clouds and how the river is change
and change is possibility and our infinity of possibility is
what makes us not just banal dogs wagged by our tails.
There across the crowded room she turns and turns,
her hair swings, her skirt swirls, she doesn't know
I'm standing here with these deep insights into everything
but if I write it all down with a lovely
swirling of its own she might read it and see
that if I stare at her it is not just the usual but
because I am interesting here alone at the edge of the dance.
Robinson
-- by Weldon Kees
The dog stops barking after Robinson has gone.
His act is over. The world is a gray world,
Not without violence, and he kicks under the grand piano,
The nightmare chase well under way.
The mirror from Mexico, stuck to the wall,
Reflects nothing at all. The glass is black.
Robinson alone provides the image Robinsonian.
Which is all of the room—walls, curtains,
Shelves, bed, the tinted photograph of Robinson's first wife,
Rugs, vases, panatellas in a humidor.
They would fill the room if Robinson came in.
The pages in the books are blank,
The books that Robinson has read. That is his favorite chair,
Or where the chair would be if Robinson were here.
All day the phone rings. It could be Robinson
Calling. It never rings when he is here.
Outside, white buildings yellow in the sun.
Outside, the birds circle continuously
Where trees are actual and take no holiday.
Mingus at the Showplace
--by William Matthews
I was miserable, of course, for I was seventeen
and so I swung into action and wrote a poem
and it was miserable, for that was how I thought
poetry worked: you digested experience shat
literature. It was 1960 at The Showplace, long since
defunct, on West 4th st., and I sat at the bar,
casting beer money from a reel of ones,
the kid in the city, big ears like a puppy.
And I knew Mingus was a genius. I knew two
other things, but as it happens they were wrong.
So I made him look at this poem.
"There's a lot of that going around," he said,
and Sweet Baby Jesus he was right. He glowered
at me but didn't look as if he thought
bad poems were dangerous, the way some poets do.
If they were baseball executives they'd plot
to destroy sandlots everywhere so that the game
could be saved from children. Of course later
that night he fired his pianist in mid-number
and flurried him from the stand.
"We've suffered a diminuendo in personnel,"
he explained, and the band played on.