wrestling with the elements up on the trail, high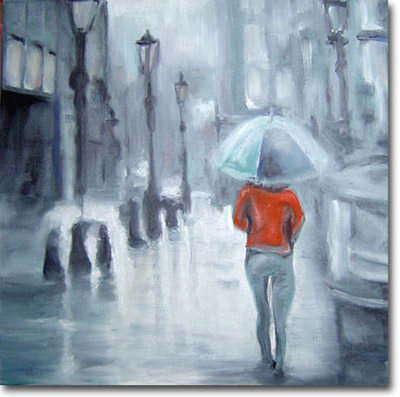 rain in a city, nick fedaeff, 2004
*
New York Times
on the drug war. excerpt:
"Today we tolerate alcohol, even though it causes far more harm than illegal drugs, because we realize a ban would be futile, create more problems than it cured and deprive too many people of something they value.
"Amphetamines have benefits, too, which is why Air Force pilots are given them. 'Most people took amphetamines responsibly when they were freely available,' said Jacob Sullum, the author of 'Saying Yes,' a book debunking drug scares. 'Like most drugs, their benefits outweigh the costs for most people. I'd rather be driving next to a truck driver on speed than a truck driver who's falling sleep.'
"Shutting down every meth lab in America wouldn't eliminate meth because most of it is imported, but the police and prosecutors have escalated their efforts anyway and inflicted more collateral damage.
"In Georgia they're prosecuting dozens of Indian convenience-store clerks and managers for selling cold medicine and other legal products. As Kate Zernike reported in The Times, some of them spoke little English and seemed to have no idea the medicine was being used to make meth.
"The prosecutors seem afflicted by the confused moral thinking that Mr. Bennett blames on narcotics. 'Drugs,' he wrote, 'undermine the necessary virtues of a free society - autonomy, self-reliance and individual responsibility.'
"If you value individual responsibility, why send a hard-working clerk to jail for not divining that someone else might manufacture a drug? And why spend three decades repeating the errors of Prohibition for a drug that was never as dangerous as alcohol in the first place?"
--- related:
minivan bought at police auction had 100 pounds of pot inside
.
* Like father, like son:
Dwight Gooden's
son jailed for violating probation and faced additional charges of having marijuana and bullets in his car. excerpt:
"Gooden Jr. was already wanted on an outstanding warrant of violating probation from a 2004 crack cocaine conviction. He was jailed early Sunday after officers found him outside a downtown Tampa club with 16 grams of marijuana and .44-caliber ammunition in his car, police spokesman Joe Durkin said.
"He was charged with possession of marijuana, being a felon in possession of ammunition and violating probation.
"Gooden Jr. was sentenced to 24 months of probation and ordered to perform 150 hours of community service in September 2004 after his arrest during a drug sting."
Dwight Gooden Sr., the 1985 NL Cy Young Award winner, went 194-112 with a 3.51 ERA before retiring in 2001.
* Watch Pittsburgh's
Mike Tamburo
describe his feelings following the death of his dog using a droning and effected harmonica. more information on mike
here
.