nameless voices crying for kindness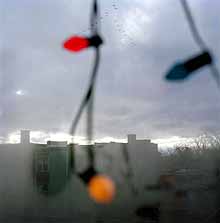 Geese with Lights (1998) Colleen Plumb
* Former Reagan official
calls
the Rove scandel, Bush's watergate. excerpt:
"This was simply Karl Rove doing what he does best — employing a scorched-earth policy against anyone whom he views as an enemy of the Bush administration.
"And Valerie Plame happened to be 'fair game,' in Rove's words, because she is the wife of Ambassador Joseph Wilson IV, a man who had challenged the intelligence findings that the Bush administration had used to justify its pre-emptive war against Iraq.
"Besides, Rove had gotten away with orchestrating smears throughout his political career, dating back to his days as a college Republican operative in the Nixon years.
"Karl Rove is a master of using the press to do his dirty work for him; he would leak sensitive information to favored reporters on a 'not for attribution' basis. When the damaging information appeared in print, Rove would pile on a story that was essentially his creation in the first place. It was a formula that worked for him time and time again."
...
"The worst possible scenario for the administration would be if it turns out that the Niger documents in question (which all now agree were forged) were fabricated by individuals who may have had a motive for getting us into the war. Shadowy figures previously linked to the Iran-Contra scandal have been mentioned as possible originators of the forged documents.
"If there is any truth to these charges, the lid will blow off Washington — and the Bush administration will be history."
...
"In my judgment, George W. Bush's White House has much more in common with the Nixon administration than with his father's. The same mind-set of the ends justifying the means is at work here, and it may have caught up with Rove and others in the Plame Affair.
"The usual sycophants are beating the drums in defense of Karl Rove, trying to make the case that conservatives have a stake in keeping Rove in power. But the party line may not save Rove's job this time. In his eagerness to hunt down a perceived enemy, Karl Rove stumbled into a national-security briar patch that may bring the entire neocon cabal down with him."
* Dwight Gooden
sought
on felony charges:
"Former baseball star Dwight Gooden was being sought by police on a felony warrant after he allegedly drove away from an officer who stopped him on suspicion of drunken driving.
"Gooden, 41, left the scene of the traffic stop early Monday after refusing to get out his 2004 BMW to take a field sobriety test, police spokeswoman Laura McElroy said.
"The officer stopped Gooden's car because he was weaving in traffic near downtown Tampa, McElroy said. Gooden, a Tampa native and resident, has a history of drug abuse and is awaiting trial on a domestic violence charge."
* the 2005
national book festival
takes place on the Mall on September 24, 2005. Dust Congress favorite
kim addonizio
will be in attendence. also, on the mall that day:
operation ceasefire
, a concert featuring Steve Earle, Le Tigre, and Jello Biafra.