sleeping is the only love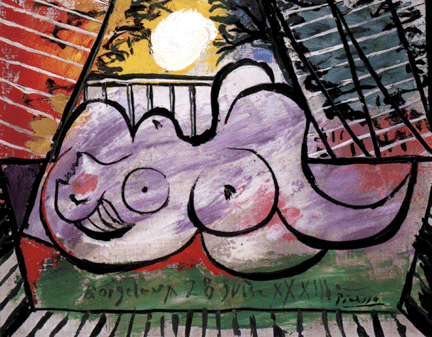 nu couche, 1933, by pablo picasso
*
New York Times
on the Bolton nomination. excerpt:
"If there's a positive side to President Bush's appointment of John Bolton as ambassador to the United Nations yesterday, it's that as long as Mr. Bolton is in New York, he will not be wreaking diplomatic havoc anywhere else.
...
""But the appointment is, of course, terrible news for the United Nations, whose diplomats have heard weeks of Senate testimony about Mr. Bolton's lack of respect for their institution and his deeply undiplomatic, bullying style of doing business. Senator George Voinovich, the Ohio Republican who became one of Mr. Bolton's strongest critics, said yesterday that he planned to send the new ambassador a book on how to be an effective manager. It couldn't hurt, but this may be the first time a world superpower has used its top United Nations post as a spot for the remedial training of a troublesome government employee.
...
"The problem here from the beginning has been that Mr. Bush clearly has little respect for either the United Nations or international diplomacy in general.
"There is plenty to complain about at the United Nations, but real work happens there, and it requires the services of men and women who know how to wring agreement out of a group of wildly different and extremely self-interested representatives. The president has not just sent the United Nations what Senator Christopher Dodd accurately termed 'damaged goods.' In Mr. Bolton, he has selected goods that weren't appropriate for the task even before the Senate began to hold hearings - when Mr. Bolton's reputation was still in one piece."
* Brits say mushrooms cure
headaches
. excerpt:
"Patients who suffer from cluster headaches - a debilitating medical condition for which there is no cure - are flouting the government's ban on magic mushrooms because they say the psychedelic fungi are the only thing to relieve the pain of their attacks.
"In the past two years scores of British cluster headache sufferers have turned to magic mushrooms, prompted by reports from the US that suggest that LSD and psilocybin - the active ingredient of magic mushrooms - may be able to control the intensity and duration of their headaches.
"Although some have experimented with psychedelics before, the majority have no history of drug taking. But many say they would rather risk jail than forgo a substance that lets them lead a normal life."
* Watch the Smog video for
I Feel Like the Mother of the World
, featuring chloe sevigny.
* "People say you have to travel to see the world. Sometimes I think that if you just stay in one place and keep your eyes open, you're going to see just about all you can handle." -- Paul Auster