took the correspondence course from the fbi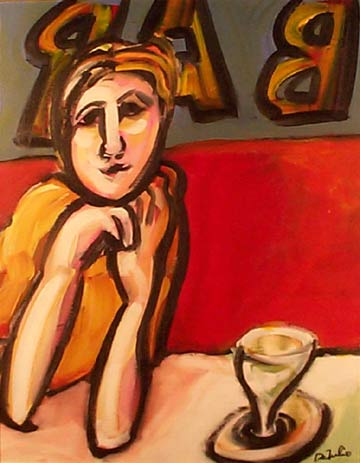 Joe DeIulio, Ladies Night Out
* Don't miss The Plums, dc's emulators of sonic youth noise, tonight at
Ft. Reno
. Plums begin at 7:15, followed by Horses, and the mighty Metropolitan.
*
the world is becoming a wasteland
, by The Bookworms', a band created at recent rock camp for girls. fun stuff from 11 (or so) year olds.
[via]
* two poems by charles bukowski
one step removed
I knew a lady who once lived with Hemingway.
I knew a lady who claimed to have screwed Ezra Pound.
Sartre invited me to visit him in Paris but I was too stupid to
accept.
Caresse Crosby of Black Sun Press wrote me from Italy.
Henry Miller's son wrote that I was a better writer than his
father.
I drank wine with John Fante.
but none of this matters at all except in a romantic sort of
way.
some day they'll be talking about me:
"Chinaski wrote me a letter."
"I saw Chanaski at the racetrack."
"I watched Chanaski wash his car."
all absolute nonesense.
meanwhile, some wild-eyed young man
alone and unknown in a room
will be writing things that will make you forget
everybody else
except maybe the young man to
follow after
him.
evidence
whores and great poets should
avoid one another:
their professions are dangerously
similar:
from the Roman Empire to our
Atomic Age
there have been about an equal
number of whores and
poets
with the authorities continually
trying to outlaw
the former
and ignore the latter
-- which tells you
how dangerous
poetry
really
is.
* a poem by bernadette mayer:
well when you begin a poem
well when
you begin a poem
you invest right away in
wasting paper
all the white or
space of many colors
around it
a thought not to be had
i was in ethiopia recently
where we walked into the water
of addis abbaba
where there is no water
I went to another
place for 299 dollars
for 6 days/five nights
but on the sixth night secretly
I could've loved you
& honestly I've been nowhere
but here
in the space of many colors
looking for a place
ideally and in no wise
for impossible travels and knowledge
to be enjoyed and gained
in this my age
i'm embarrassed to be in
[back monday]