on the corner selling the New York Times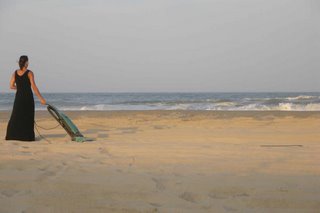 Kathryn Cornelius
* What foreign journalists
must endure
. excerpt:
"You're a foreign journalist and you want to visit the United States to cover a story. If you think it is as easy as hopping on an airplane, even if you are a citizen or resident of a visa-waiver country, guess again. Journalists wishing to travel to the United States -- whether they are with print, television, radio, or Internet media -- must first obtain an 'I-Visa'. Freelance journalists who are not under contract to a U.S.-recognized media organization need not apply.
"Journalists must fill out a detailed application in which they are required to outline what story they are writing about and they must personally visit the U.S. embassy and consulate for 'administrative processing, biometric collection and a personal interview.' Biometric processing at the U.S. embassy in Copenhagen entails having one's thumb electronically scanned. Journalists visiting some U.S. diplomatic missions for the interview cannot bring in 'electronic devices (cell phones, PDAs, laptops ) [or] backpacks, suitcases and attaché cases.' At certain missions, U.S. embassy security personnel refuse to store such items during the interview process. Others confiscate cell phones and tag them for pick up after the interview process (needless to say, the interview process might last a bit longer if the local U.S. spooks decide to examine the journalist's cell phone call list and perform certain 'modifications.' At the Madrid embassy, the only bags that are permitted inside the compound are those having medical purposes, such as insulin kits.
"Journalists must also provide their addresses in the United States and the names and addresses of people they will be interviewing. So much for freedom of the press and the protection of journalists' sources.
"The real rub comes with the I-Visa application fee. Journalists who believe they can pay the 85 Euro (US$ 108) fee in Germany and Denmark by check, cash, or credit card are out of luck. Certain U.S. embassies, like those in Copenhagen and Berlin, through a bank wire contrivance, require visa fees to be paid into special bank accounts established by the various U.S. embassies. In Germany, the Bush cronies have cut a deal with a small outfit called Roskos and Meier OHG, a 23-person subsidiary of the giant banking consortium, Alianz Group. Roskos and Meier has only been around since 1994 when Messrs. Roskos and Meier formed their company to provide insurance and financial services in the Berlin-Brandenburg area. Now they have a lucrative sweetheart deal with the U.S. embassy to confirm that visa fees have been paid from individuals applying for visas at the Berlin embassy and Frankfurt consulate. The visa payments go to a special account established at Dresdner Bank AG Berlin, Bank Routing Number (BLZ): 120 800 00, Account No. (Kontonr.): 405 125 7600. In Denmark, the journalist visa money (600 Danish Kroner) is wired to a special embassy account at the Jyske Bank Reg. No. 5013, account number 200200-2. Internet banking or bank-to-bank payments are not permitted. The U.S. embassy in Helsinki requires journalists to pay 85 Euros into Nordea Bank account #221918-16629.
"In Spain, $100 in Euros must be deposited with the Banco Santander Central Hispano (BSCH), bank account: 0049-1803-54-2210316035. In China, a visa application fee of 810 RMB (US$101) can only be paid at selected branches of the CITIC Industrial Bank. In the United Arab Emirates, the $100 application fee must go to the National Bank of Abu Dhabi. In Cyprus, 46 Cyprus Pounds (US$ 102) lands in special LAIKI Bank account "American Embassy - MRV -- Account Number: 070-21-074824."
"Morten Torkildsen, a special investigator for the UN's International Criminal Tribunal for Yugoslavia, stated the following concerning the Nicosia U.S. embassy's favorite Cypriot bank in a 58-page report on Slobodon Milosevic's secret foreign holdings. 'Popular (LAIKI) Bank, the island's second largest bank, allowed a group of Yugoslav-controlled front companies to operate in defiance of UN sanctions. These companies supplied Mr. Milosevic's government with fuel, raw materials, spare parts and weapons to pursue wars in Bosnia in 1992-1996 and in Kosovo in 1998-1999.' LAIKI's largest shareholder (at 22 percent) is the powerful Hong Kong and Shanghai Banking Corporation (HSBC). Even with all the questions surrounding LAIKI Bank and its involvement in money laundering for Milosevic and his regime, the Cypriot bank easily purchased Belgrade, Serbia-based Centrobanka in January 2005.
"Just think of all the various and differing U.S. embassy visa application fee requirements and bank accounts in all the countries around the world. Considering all the other financial malfeasance in the Bush administration, to what degree are these accounts audited? Can anyone spell 'slush fund?'"
...
In some cases, foreign journalists who carry the necessary I-Visa are, nevertheless, subjected to humiliating questioning and strip searches at U.S. airports. One Danish journalist was required to slip down to his skivvies, bend over, and have some perverted Homeland Security official stick his finger up his rectum. Some female journalists from such friendly countries as Britain and Australia have been handcuffed and sexually groped by other Homeland Security lechers and lotharios.
Meanwhile, the Bush administration's grand dame of international public relations, Bush's gal-pal Karen Hughes, who might even put off a Homeland Security sex maniac, continues to insist that she is improving America's image abroad. As far as most international journalists are concerned, she is a complete joke. And so is George W. Bush. The State Department web page comically posts the following message from Bush to U.S. visa seekers: 'America is not a fortress; no, we never want to be a fortress. We're a free country; we're an open society. And we must always protect the rights of our law -- of law-abiding citizens from around the world who come here to conduct business or to study or to spend time with their family.' Yeah, right. And Bush thinks jamming fingers up the asses of arriving journalists is part of living in a free country."
* Allen Ginsberg
sings
! [
via
]
*
SJBB3P Part 2
alums,
the fake accents
and
the Miniature Poodle Gang
both have new releases available. Drop them a line for further details. (Fake Accents play the warehouse nextdoor September 7, 2006)
And, mark your calendars:
The Foreign Press
play
the warehouse nextdoor
October 1, 2006, opening for
ex models
and
Pup Tent
.