when they turn on the chair
something's added to the air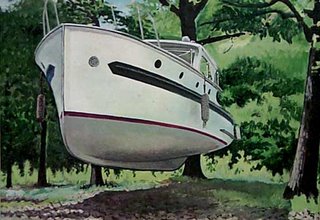 Jim Franklin, Under Aires, 1972, Acrylic
* Malkmus joins the Joos for
Smith & Jones
(quality of video and audio not so great).
Other MP3s
(West S, Blue Arrangements), and a
picture
.
* Top ten
conservative idiots
. excerpt:
"4. ABC
"If you're reading this on Monday, then ABC is halfway through their five-hour 'Path to 9/11' crockudrama, despite numerous protests to drop the movie due to its fictionalization of the events leading up to September 11, 2001. Condemnation for 'The Path to 9/11' has been almost universal, from Bill Clinton and members of his administration, to newspaper editorials and reviews, to consultants, to members of the 9/11 Commission, to quite a few conservatives. Even Harvey Keitel thinks it's rubbish, and he's the star.
"ABC's response? Go screw yourselves.
"But let's back up a little. The controversy over 'The Path to 9/11' began when ABC mysteriously provided advance screeners to right-wing bloggers and commentators only. Rush Limbaugh got one, but Bill Clinton did not. And when Bill Clinton asked for a copy, he still didn't get one.
"When word leaked that the movie contained fictionalized scenes designed to make the Clinton administration look like buffoons while puffing up the Bush administration, the shit hit the fan. It's one thing to crank out a drama in order to cash in on 9/11 - hell, I wouldn't expect anything less from our tasteful media conglomerates - but it's quite another to essentially create a phony, five-hour-long, $40 million campaign commercial for the Republican party just months before an election.
"Things got worse when it was revealed that the writer of the movie, Cyrus Nowrasteh, is a conservative activist who has spoken on panels with titles like 'Rebels With a Cause: How Conservatives Can Lead Hollywood's Next Paradigm Shift,' has called Michael Moore 'a socialist weasel,' and recently gave an interview to David Horowitz's Front Page Magazine where he said that 'The 9/11 report details the Clinton's administration's response - or lack of response - to Al Qaeda and how this emboldened Bin Laden to keep attacking American interests.' (He also said that 'Syriana' is 'a recruiting film for suicide bombers.')
"Those who are interested in learning more about Clinton's "lack of response" to terrorism can read up on the subject here.
"Next, it was revealed that the director of the 'The Path to 9/11,' David L. Cunningham, is part of an evangelical Christian organization called 'The Film Institute,' whose goal is to place activists within the movie industry, 'not to give them jobs, but so that they can begin to impact and transform Hollywood from the inside out.'
"One can only imagine how quickly ABC would have pulled this movie if bloggers had discovered that it was written, produced and directed by liberal activists with an agenda. But apparently if the right-wing wants to create a flawed and fictional account of the events leading up to 9/11, then ABC will go to the mat for them.
"Faced with a firestorm of criticism, ABC tried to cover its ass by claiming that portions of 'The Path to 9/11' would be re-edited and rewritten, that disclaimers would be shown throughout the movie, and that they would stop advertising it as 'Based on the 9/11 Commission Report' and give a fuller description: 'The movie is not a documentary. For dramatic and narrative purposes, the movie contains fictionalized scenes, composite and representative characters and dialogue, as well as time compression.' They did all this while quietly assuring right-wing bloggers that people who had seen the original screeners would barely notice the edits.
"And for some reason they seem to have left out the fact that one of the sources they used for the movie, John Miller, is a Bush administration official. (He also happened to review the movie for National Review Online, and guess what? He liked it.)
"So there you have it. While ABC feeds Americans a line of bullshit about disclaimers and re-writes, they're flogging the movie overseas as the 'Official True Story" and "The story of exactly what happened.'
"Can we please now - finally - take the myth of the "liberal media" out into the woods and shoot it?"
* From an interview of
Jenny Holzer
. Holzer currently has a project at project at 7 World Trade Center. excerpt:
"We have his whole book in there, Here Is New York. That's the cool thing about the electronics, the cool and hazardous thing: we can include a vast amount of material, but you could become lost in the Corbusier and the White. . . .
"I inhabit a small sphere. I am always thinking about rape, murder, and torture, although I've gradually come to believe that's not the whole world. I was influenced by being around Larry and Klara, who don't routinely seem to think about murder, torture, and treachery. When I first was working on the piece, I only could focus on September 11. Then I realized that there will be an official memorial for that, and so that perhaps my work should represent life in New York before, during, and after 9/11. I remembered my own pleasure in leaving Ohio and coming to New York, for example, and I'm not alone in liking that sort of a happy exit and arrival. And you're right that the proximity of the artwork to the pit colors the text selections."