Bring a song and a smile for the banjo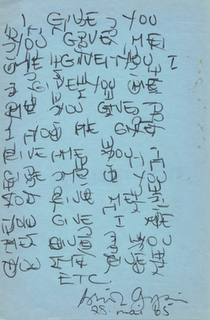 Brion Gysin, I Give You/You Give Me, 1965, Ink on paper
Made during an LSD trip with John Giorno, May 28, 1965
*
Dave Lindorff
. excerpt:
"The New York Times, in lead article on Monday headlined (on the jump) 'Bush Mourns 9-11 at Ground Zero,' reported that a 'visibly moved' president laid a wreath Sunday at the memorial in the hole that is what's left of the World Trade Center, saying, 'Laura and I approach tomorrow with a heavy heart.'
"I'm sorry, but there's no way this disaster of a president, this serial trasher of the Constitution, this slaughterer of 100,000 innocent Iraqis, this waster of nearly 30,000 American lives (the dead and the maimed victims in uniform of his pointless invasion of Iraq), was mourning anything. My guess is that he thanks god every day of his sorry administration for the events of 9-11, which rescued his presidency from history's toilet.
"Remember, on September 10, 2001, George Bush was being widely written off as a failed president. His poll numbers were falling faster than Enron stock, he was becoming a national joke for the number of days he spent vacationing, and his political strategist, Karl Rove, was in a tizzy trying to figure out an angle to salvage things.
...
"Fortunately, this fake 'war on terror' that the president has wrapped himself up in, is starting to wear thin with the American public, as is his increasingly strained effort to link the fiasco in Iraq with that other fake war.
"That may explain the sincere look of serious reflection on the normally twisted cynical face of Vice President Dick Cheney during a moment of silence at a Monday ceremony at the Pentagon. The Vice President, who like Bush surely hasn't been genuinely mourning 9-11, may well have been brooding over the train wreck that this administration is becoming, in large part because of Cheney's own mad obsession with military adventurism and presidential power grabbing.
"Both he and Bush may even have been praying on Monday that the next anniversary of the 9-11 attacks doesn't see them both in the dock being impeached for their crimes."
*
Patti Smith
Rock's great survivor:
What does Smith think of today's soft-porn chic, embodied by the likes of Paris Hilton? 'It's not even femininity. We're being sold an image of how to exploit one's self to get attention. It's about redesigning the surface. I've been horrified by all these articles about Botox and plastic surgery as if it's a normal thing.'
"A friend recently showed her how digital retouching can take 20lbs off someone. 'This isn't some joke or unfortunate thing that happened to a newscaster in America. This happens continually. Young girls are getting anorexic because they don't look like people in magazines who often don't even look like that.'"
...
One senses that her life and music are full of ghosts. 'I keep my communication lines with the people I have lost.' But her political engagement is total. She opposed the war in Iraq and has just written a new song, 'Qana,' protesting against Israel's bombardment of south Lebanon.
"'We have gone backwards in terms of the anti-war movement, in terms of understanding there are no righteous wars. We've got to take note of how we are destroying our environment. Nature is the real woman scorned. We're going to see things that we've never dreamed of. America is still shaking in its boots because more than 2,000 people were killed in the World Trade Center. Well, this is a terrible thing, but over 40,000 Iraqi citizens have been killed since September 11 and 100,000 died in the tsunami.'
* "Music gazes at its listener with empty eyes, and the more deeply one immerses oneself in it, the more incomprehensible its ultimate purpose becomes, until one learns that the answer, if such is possible, does not lie in contemplation, but in interpretation. In other words, the only person who can solve the riddle of music is the one who plays it correctly, as something whole." -- Theodor Adorno, The Relationship of Philosophy and Music