the absured courts the vulgar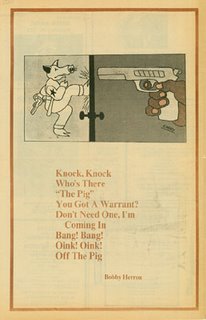 Emory Douglas, published on the back page of the
Black Panther
, February 2, 1969
In the late '60s, Emory Douglas—minister of culture in the Black Panther Party and graphic designer of the Black Panther newspaper—began to print drawings of pigs with the badge numbers of certain corrupt cops. He later dressed the swine in full uniforms and stood them up on their back hooves. Douglas claims that these images spawned the "pig" epithet, which eventually led to the police force's attempt to reappropriate the name as a self-congratulatory acronym: PIG (Pride, Integrity, Guts).
* Top ten
conservative idiots
. excerpt:
10. Robert Starcevich
"And finally, I'm sure most people are by now familiar with the work of the Freeway Blogger. For several years he has been placing large signs adjacent to highways and byways nationwide, displaying political messages such as 'The war is a lie' and 'Quagmire accomplished.' The Freeway Blogger provides a How-To for other aspiring freeway bloggers, takes care to stress safety when placing signs, and discusses the legality of his actions on his website. He suggests that you 'call your local department of transportation to find out more.'
"One thing that the Freeway Blogger does not do is permanently damage any structures. His signs are easily removable and cannot be considered vandalism. Unfortunately this part of the equation has apparently been lost on Robert Starcevich of Askov, MN.
"72-year-old Starcevich was recently arrested and charged with felony criminal damage after allegedly painting 'crude grafitti' all over highway bridges and roads in Pine County, according to the Minneapolis Star-Tribune. The messages are almost as clever as the Freeway Blogger's. For example, there's 'GEORGE W.' That's a good one. Then there's 'SUPPORT R TROOPS' with the S's painted backwards. And my personal favorite, 'ABORT DUMA-CRAPS.'
"Repairs are estimated to cost $10,000. If convicted, Starcevich faces 'up to five years in prison, a $10,000 fine, or both.' And when the
Star-Tribune
called him to ask about his activities, he explained that 'Liberals are the anals of America.' I'm not kidding."
* Buzzsawblog has
Bobby Bare's first video
available for viewing. [The Kris Kristofferson song linked from the main page is worth a listen as well.]
* "Say what you will about the Ten Commandments, you will always come back to the pleasant fact that there are only ten of them." -- H.L. Mencken
* "I was raised an atheist. Every Sunday, we went nowhere. We prayed for nothing. And all our prayers were answered." -- Heidi Joyce