Phantom fingers straighten a phantom tie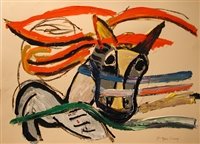 Karal Appel, People of the Edge #10
From
Ed Sanders 'America: A History in Verse, Volume 2 1940 - 1960:
(1955)
Howl
A Poem for August
Allen Ginsberg's psychiatrist
at San Francisco's Langley Porter Institute
had said it was ok to move in w/his lover Peter Orlovsky
give up his job in market research
& devote his time to poetry
"I asked him what the
American Psychoanalytic Association
would say about that," Ginsberg later recalled,
"& he said 'There's no party line
no red book
on how people are supposed
to live
If that's what
you really feel
wd please you
what in the world
is stopping you from doing it?"
A.G. settled in with Orlovsky by the summer
& was reading many books
but writing little
His poetic were focused on the W.C. Williams
triadic lines
or indented tercets
(as in his great
"Asphodel, That Greeny Flower"
)
& Kerouac's long-breathed verses.
Allen hitchhiked up to Yosemite & Lake Tahoe
then back to S.F.
where one day in early August
he slid a piece of paper
into a used typewriter
with nothing to gain
nothing to lose
He started with a line from a notebook
"I saw the best mind angel-headed hipster damned"
which he later transformed into the famous
"I saw the best minds of my generation..."
and then, in a rush of brilliance
completed the first twelve pages of
the generation-jelling work
The same day he wrote what ultimately
would be Part III of "Howl"
the Carl Solomon section.
A few days later, lit up on peyote
Ginsberg & Orlovsky walked past
the Sir Francis Drake Hotel
which, high on its hill
looked like "the robot skullface of Moloch"
a vision which led to Part II of "Howl"
the "Moloch" section
beginning with "What spinx of cement..."
The next few months
saw hundreds of revisions
as he shaped it to thrill a generation.