I've already had two beers I'm ready for the broom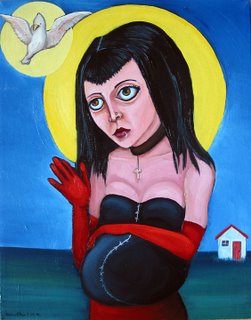 madonna of the suburbs, by dana ellyn (part of her 31 days of July series, this painting done in response
to a story on this Washington Post cover
)
Cablephoto
-- by Gerard Malanga
for Keith Richards
Rolling Stones' Keith Richards
greets girl friend actress anita pallenberg
and their 4-month-old son marlon
on arrival at londons heathrow airport
after u s tour
miss pallenberg a german
said british government has told her
she must marry
or leave England.
Hotel Chelsea, Room 121
-- by Gerard Malanga
for John Weiners
We wake up
In the sunlight pointing to the disadvantages of being up
Tight in the room making calls to friends
At the same time removing ourselves from
Broken promises.
John rolls a joint and thinks
About what time the mail is due to arrive.
Rene wraps himself up in a bedsheet.
Benedetta calls to let me
Know when to call her tonight.
Can't get through to Andy today.
Today inspiration is lacking from my life.
Benedetta moves gracefully over the landscape into my life
With devotion and speed
Knowing where we are coming
From the moment we begin
Somewhere inside.
Coming Up For Air
-- by Gerard Malanga
for Edie Sedgwick
The face that grows out from the magazine
Covers some simple indication
That long earrings are coming
Back into fashion
At the parties that were
Beginning over
Night in the city
Limits, and the surprise
Package of whatever explains the false
Hood of logic to keep us
Guessing at the eventual sun
Rise, brings me home
In the film of our favorite soft
Drink starring you.