flowers dance their faces brave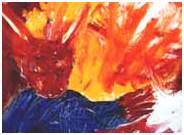 Don Van Vliet, Devil and the Deep Blue Sea, 1984
The Edge of the World
-- by jack gilbert
I light the lamp and look at my watch.
Four-thirty. Tap out my shoes
because of the scorpions, and go out
into the field. Such a sweeet night.
No moon, but urgent stars. Go back inside
and make hot chocolate on my butane burner.
I search around with the radio though
the skirl of the Levant. "Tea for Two"
in German. Finally, Cleveland playing
the Rams in the rain. It makes me feel
acutely here and everybody somewhere else.
Shield the Joyous
-- by dana goodyear
We took a white blanket to the grass,
out of view of the landscape
architect and his crew.
The air smelled hot and small
strings bore down on us.
Afterward, of course, we ate the fruit.
We couldn't help ourselves.
The Bar at the Andover Inn
-- by William Matthews
The bride, groom (my son), and their friends gathered
somewhere else to siphon the wedding's last
drops from their tired elders. Over a glass
of chardonnay I ignored my tattered,
companionable glooms (this took some will:
I've ended three marriages by divorce
as a man shoots his broken-legged horse)
and wished my two sons and their families
something I couldn't have, or keep, myself.
The rueful pluck we take with us to bars
or church, the morbid fellowship of woe --
I've had my fill of it. I wouldn't mope
through my son's happiness or further fear
my own. Well, what instead? Well, something else.
*
an odd pairing, for sure
.