Broken household appliance national forest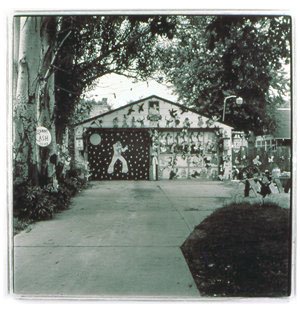 Robert Mertens, Outside: Leon and Mary's Garage, 1996
*
Wayne Madsen
on brothers. excerpt:
"Brothers versus brothers. Bush and his right-wing Cuban-American friends and donors engaged in a macabre Castro death watch in Miami. President George W. and Florida Governor Jeb Bush, two brothers who owe their offices to the power of the right-wing Cuban-American community in south Florida, engaged in a macabre and sinister death watch for Cuban President Fidel Castro while being hosted by wealthy Cuban-American supporters.
"As Castro was rushed to the hospital suffering from internal bleeding, just two weeks after visiting, along with Venezuela's President Hugo Chavez, the boyhood home of Che Guevara in Alta Gracia, Argentina, the Bush brothers began planning action against the Cuban government and the two Castro brothers -- Fidel and Raul. Defense Minister Raul Castro took over the reins of power from Fidel, the first time the Cuban leader had given up power since 1959.
"As reported by WMR last November, the politically-powerful St. Joe Company has a significant investment in the Codina Group. After Jeb Bush became governor, he took care of his real estate business friends, selling them state-owned land at cut rate prices.
"Joining the Bush brothers in Coral Gables were the Florida Cuban-American GOP congressional team of Representative Ileana Ros-Lehtinen, who best represents the fact that America's foreign policies on the Middle East and Latin America have been outsourced to two vocal and politically powerful special interests -- the Israeli and Cuban exile lobbies. Ros Lehtinen's mother was a Jewish-Cuban refugee from Cuba. Joining the Bush brothers in the Florida death watch huddle were another GOP brother team, Representatives Lincoln and Mario-Diaz Balart.
"The brothers Bush and Balart and Ros-Lehtinen and Codina have their eyes set on lucrative real estate development schemes for post-Castro Cuba. The fact that oil has been discovered in Cuban waters has also earned the interest of the Bush-Cheney petroleum cartel. The Bush crime family and their associates see Cuba as a place where they can either force European and Canadian hotels to pay original land owners compensation for deals made with the Castro government or forfeit their properties to Miami-based Cubans working in concert with multi-billionaire non-Cuban GOP moguls, including another major Bush donor in Florida, real estate developer, GOP financier, pro-Israel activist, and former ambassador to Australia and Italy, Mel Sembler.
"Like buzzards and hyenas waiting for the death of an old elephant, the Bush cartel and their Florida friends are anxiously awaiting the death of Castro in order to devour the self-sufficient nation he and his fellow Cuban revolutionaries took so long to build. And there is little wonder that the Cuban government insists on keeping Fidel Castro's medical condition secret. They, too, are aware of the Coral Gables GOP confab and have said they do not want to tip off the plotters to the north about their leader's condition."
* Twinkle twinkle blah blah blah or, as it was known at the end
number one hit song
, has shut its doors. we are sad to see them close.
* "Every time I see him play I think of Charles Mingus, the late musician. Mingus said to make easy situations complicated, it's easy -- to make complicated situations simple takes creativity. That's Carlos Alberto." -- Former NY Cosmos soccer coach, and special assistant to Pele, Professor Julio Mazzei
* Check out
Jennifer O'Connor's
Dirty City Blues. Her album, Over the Mountain, is out August 22 on Matador.