And light it up forever and never go to sleep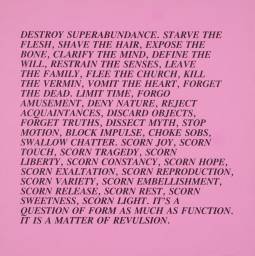 jenny holzer,
from
Inflammatory Essays
Summers, About 1959
- by Alberto Rios
Women wore those sleeveless blouses
Where, if you tried, you could peek in
And try to get a look.
But it was always the wrong angle.
Contact lenses got invented in those years, too.
I remember the first boy who got some:
He had big white lines
From his nose to his ears
As if he were wearing invisible glasses.
That's how someone explained them to me
And I believed it: invisible glasses.
But they were really just the tan lines
From so many years of big, standard-issue
Black frames, glasses a little like
Plymouths for the face.
This was when summers were all the X-15,
Mickey Mantle and Roberto Clemente,
TV dinners and the drive-in.
Summers had a smell then. When you inhaled
You got the sound of crickets and cicadas
As well in your nose, and Sputnik too-
A word that rolled around in our mouths
Then spat itself out. Sputnik. We said it
All the time. Things were changing.
Dear Mr. President
-- by Philip Whalen
DEAR MR. PRESIDENT,
LOVE & POETRY
WIN -- FOREVER.
WAR IS ALWAYS
A GREAT BIG LOSE.
I AM A POET AND
A LOVER AND A WINNER --
HOW ABOUT YOU?
Respectfully Yours, Philip Whalen 10:III:65
WORDS
-- by Sylvia Parker
Simple Sentences
Bottomed out. There's sadness. Confusion. Lies and more lies. DESIRE - pain. Fuck. Blindness. No Fucking Here. Words. Thank you. Put it to death.
Dream
Years ago in a dream I turned to Rose who was sitting outside of a motor lodge in New Jersey with a view of Manhattan under a passionately conversational twilight sky (it was like seeing in WagnerVision). I said, "You don't have skies like this anywhere but New York". She agreed.
Experiment
I tried to make a middle by going to the heights and hoarding all I could, keeping it living inside me to combine with your souvenirs from the depths so we could have a place to stand and watch. What I didn't account for was a basic law of chemistry - base on top of acid = explosion. Because I usually don't read directions, as a kid it took me weeks of indiscriminate mixing from different bottles in my chemistry set to arrive at an explosion. This time I got all the directions I could find and it happened too quickly.
Unspoken Oath
The current I want to be in changes everything into itself - into me; unwashed, essential before you.
Disclaimer
All I want is to be floating gently in the big drink.
The Luxury of Sitting
--- by Chris Stroffolino
As if life is the box at the wharf
for those who need surgery to feel--become splendid
and grateful as the wave's happy sacrifice.
Ah, the power we have when the water recedes!
No more the voyeur borrowing moon
now that the jackhammers have peeled our clothes
and the rooster's caught redhanded
by the sun that seconds its smile
if you stoop to think about it
near the grass factory where invitations incubate.
On the other side, no one can see you.
The reason: they think it's their duty to be attentive
and cannot live the lie of laziness.
We are animals in search of whiffs or flames.
The precise ants and out of tune bulls.
Dualism sends urgent warnings, reminders.
A fool is a formletter but there's a still hill somewhere
and it takes two or time to find it.