what a beautiful face I have found in this place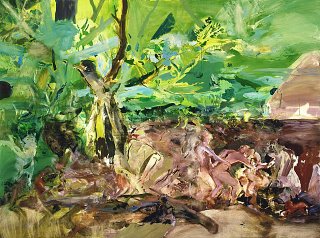 cecily brown, the quarrel, 2004
* From a 1971 interview of
Syd Barrett
. excerpt:
Q: Some of your songs seem rather obscure, like Chapter 24 on Piper.
Syd: 'Chapter 24'...that was from the 'I Ching', there was someone around who was very into that, most of the words came straight off that. 'Lucifer Sam' was another one, it didn't means much to me at the time, but then three or four months later it cam to mean a lot.
Q: How important are lyrics to you?
Syd: Very important. I think it's good if a song has more than one meaning. Maybe that kind of song can reach far more people, that's nice. On the other hand, I like songs that are simple. I liked Arnold Layne because to me it was a very clear song.
Q: What about Octopus, that was my personal favourite.
Syd: I carried that about in my head for about six months before I actually wrote it so maybe that's why it came out so well. The idea was like those number songs like 'Green Grow the Rushes Ho' where you have, say, twelve lines each related to the next and an overall theme. It's like a fool-proof combination of lyrics, really, and then the chorus comes in and changes the tempo but holds the whole thing together.
...
Q: Are you into other people's music?
Syd: I don't really buy many records, there's so much around that you don't know what to listen to. All I've got at home is Bo Diddley, some Stones and Beatles stuff and old jazz records. I like Family, they do some nice things.
Q: What about the Underground?
Syd: I haven't been to the Arts Lab or anything, so I don't really know what's happening. There are just so many people running around doing different thingsand no kind of unity. It doesn't really bother me.
Q: Do you read poetry?
Syd: I've got Penguins lying around at home. Shakespeare and Chaucer, you know? But I don't really read a lot. Maybe I should.
Q: Were you satisfied with Madcap Laughs?
Syd: Yes, I liked what came out, only it was released far too long after it was done. I wanted it to be a whole thing that people would listen to all the way through with everything related and balanced, the tempos and moods offsetting each other, and I hope that's what it sounds like, I've got it at home, but I don't listen to it much now.
Q: Madcap is rather gentle compated with your Floyd stuff. What about the new album?
Syd: There'll be all kinds of things. It just depends what I feel like doing at the time. The important thing is that it will be better than the last.
* Top ten
power brokers
of the religious right.
* Wales national poet plans to put poems on
beer mats
. excerpt:
"Punters could soon be enjoying poems with their pints if Professor Gwyn Thomas has his way.
"He is determined to introduce poetry to the masses and he believes one way to target them would be in their local pubs.
...
"'At one time, poems written by ordinary people were placed on buses in North Wales and shortly afterwards they started doing the same thing on the London Underground.
"'I hope that we can do something like that again for the whole of Wales.
"'It would also be good to print short poems on beer mats and pin them up in places where people tend to get bored, such as the waiting rooms of doctors and dentists. Hopefully it would get them interested in poetry.'"
* "One must be drenched in words, literally soaked in them, to have the right ones form themselves into the proper pattern at the right moment." -Hart Crane