These are stains upon your genes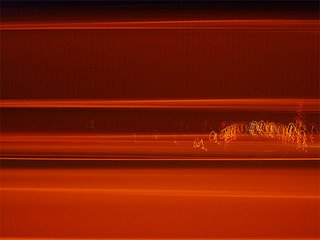 blur heat, unknown
* From the department of common knowledge: most editors
have no clue
. excerpt:
"He is the nation's most lauded novelist, our only Nobel prize-winning writer, twice a winner of the Miles Franklin award and three times the Australian Literature Society's Gold Medallist. Yet without his name on the cover, Patrick White's work is apparently of little value to Australia's publishing industry.
"Inquirer submitted, under a pseudonym, chapter three of White's The Eye of the Storm to 12 publishers and agents. This novel clinched his Nobel Prize in Literature in 1973, with the judges describing it as one of his most accomplished works.
"Not one reader recognised its literary genius, and 10 wrote polite and vaguely encouraging rejection letters. The highest praise was "'lever.' A low point was a referral to a 'how to' book on writing fiction.
"Pan Macmillan referred the author to writers' workshops; Mark Latham's agent, Mary Cunnane, recommended the author improve by reading Penguin Books' The Art of Writing, for hints on character and form. Text Publishing, which prides itself on finding and publishing Australian literature, sent back a form rejection letter and HarperCollins flicked it back unread.
...
"Cunnane is a respected agent of 30 years' experience. She wrote: 'Alas, the sample chapter, while (written) with energy and feeling, does not give evidence that the work is yet of a publishable quality.
"'I suggest you get a copy of David Lodge's The Art of Fiction (Penguin) and absorb its lessons about exposition, dialogue, point of view, voice and characterisation.'
"Nicholas Hudson, of Hudson Publishing, found the work perplexing. 'What I read left me puzzled. I found it hard to get involved with the characters, so it was not character-driven, nor in the ideas, so it was not idea-driven. It seemed like a plot-driven novel whose plot got lost through an aspiration to be a literary novel. It was very clever, but I was not compelled to read on,' he wrote.
* Bob Herbert:
the definition of tyranny
. excerpt:
"The Bush-Cheney regime believes it can do whatever outlandish things it wants, including torturing people and keeping them incarcerated for life without even the semblance of due process. And it's not giving up. The administration now wants Congress to authorize what the Supreme Court has plainly said was wrong. White House lawyers, in a torturous (pun intended) interpretation of the court's ruling, seem to be arguing that the kangaroo courts, otherwise known as military commissions, will be quite all right if only Congress will say so.
"They're not all right. They're an abomination (like the secret C.I.A. prisons and the practice of extraordinary rendition) that spits in the face of the idea that the United States is a great and civilized nation.
"'Can you imagine if the Hamdan decision, among others, had gone the other way?' said Michael Ratner, president of the Center for Constitutional Rights, which has been waging an extraordinary fight to secure basic legal protections for prisoners at Guantánamo. 'I mean we'd be looking at a dark nightmare.'
"The court's decision brought into sharp relief the importance of one of the most fundamental aspects of American government, the separation of powers. Checks and balances. The judicial branch put a halt — a check — on a gruesomely illegal practice by the executive.
"Mr. Bush has tried to scrap the very idea of checks and balances. The Republican-controlled Congress has, for the most part, rolled over like trained seals for the president. And Mr. Bush is trying mightily to pack the courts with right-wingers who will do the same. Under those circumstances, his will becomes law.
...
"There is every reason to be alarmed about the wretched road that Bush, Cheney et al. are speeding along. It is as if they were following a route deliberately designed to undermine a great nation.
"A lot of Americans are like spoiled rich kids who take their wealth for granted. Too many of us have forgotten — or never learned — the real value of the great American ideals. Too many are standing silently by as Mr. Bush and his cronies engage in the kind of tyrannical and uncivilized behavior that has brought so much misery — and ultimately ruin — to previous societies.