my logic is my style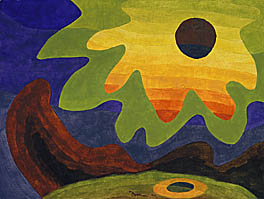 Arthur Dove, Sun, 1943
In Plain View
-- by Frank Stanford
A white rose fell out of my lapel
outside the church house
like a hand with too much sun
A horse trampled it
The barefoot rider who was
just passing through
leaned over backwards
and picked it up with his toes
He said Sorry
and I said Much obliged
And I took it from his dark foot
and gave it to his fine horse
Night Jump
-- by Ron Padgett
At night Chinamen jump
on Asia with a thump
Who but Frank O'Hara
could have written that?
and then gone on to speak of
love and something he calls grace.
To start out so funny
and end up with mystery and grace —
we should all be so lucky.
The Way You Wear Your Hat
-- by Ron Padgett
Boing, boing, boing
is the sound the exclamation point makes
when it leaps around the page alone
like Fred Astaire in a tux at night
when he thinks that Ginger Rogers
is mad at him and only his toes
will lighten the glumness. Oh!
what a beautiful way to start a dance,
just a slow slide of the toe
along glittering black marble.
And in her hotel boudoir, Ginger
in a white satin gown, arms
crossed and lips pursed —
hey, she is mad. And no wonder:
they are in different films
being shown at different theaters!
And they will never, ever meet again,
for they have tricked each other
out of existence.
Bastille Day
-- by Ron Padgett
The first time I saw Paris
I went to see where the Bastille
had been, and though
I saw the column there
I was too aware that
the Bastille was not there:
I did not know how
to see the emptiness.
People go to see
the missing Twin Towers
and seem to like feeling
the lack of something.
I do not like knowing
that my mother no longer
exists, or the feeling
of knowing. Excuse me
for comparing my mother
to large buildings. Also
for talking about absence.
The red and gray sky
above the rooftops
is darkening and the inhabitants
are hastening home for dinner.
I hope to see you later.