like a bird on a wire I have tried in my way to be free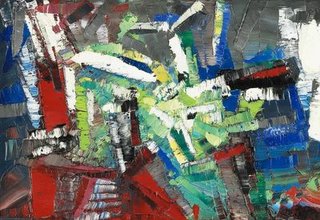 jean-paul riopelle, provence
"Poetry is just the evidence of life. If your life is burning well, poetry is just the ash." -- Leonard Cohen
Poems by Leonard Cohen
I Wonder How Many People in This City
I wonder how many people in this city
live in furnished rooms.
Late at night when i look out at the buildings
I swear I see a face in every window
looking back at me
and when I turn away
I wonder how many go back to their desks
and write this down.
When this American woman
When this American woman,
whose thighs are bound in casual red cloth,
comes thundering past my sitting place
like a forest-burning Mongol tribe,
the city is ravished
and brittle buildings of a hundred years
splash into the street;
and my eyes are burnt
for the embroidered Chinese girls,
already old,
and so small between the thin pines
on these enormous landscapes,
that if you turn your head
they are lost for hours.
Poem 111
Each man
has a way to betray
the revolution
This is mine
the only poem
This is the only poem
I can read
I am the only one
can write it
I didn't kill myself
when things went wrong
I didn't turn
to drugs or teaching
I tried to sleep
but when I couldn't sleep
I learned to write
I learned to write
what might be read
on nights like this
by one like me