it's the way I'm living right or wrong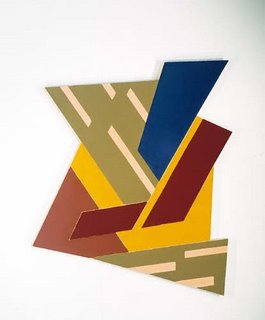 Frank Stella, Felsztyn I, 1971
another timely poem by Klipschutz:
War Poem
It's just a war, it's not the end of the world
It's not the end of the war, just of a world
Just the, not the, end of, world of, war
War of world of not the just of love
The dogs set loose, the madness, Mayday! Blog!
The blogs set loose, dog, May Day Blowout Sale
It's just a word, war, not the end of the book
It's not the end of the word, its just a hyph—
All along the watchtower
Jimi sang
The joker and the thief spoke back and forth
It's not the just the end the just, Adjust!
Adjust the world, not it's the, is it? Yet
A few by Charles Bukowski:
8 Count
from my bed
I watch
3 birds
on a telephone
wire.
one flies
off.
then
another.
one is left,
then
it too
is gone.
my typewriter is
tombstone
still.
and I am
reduced to bird
watching.
just thought I'd
let you
know,
fucker.
Paris
never
even in calmer times
have I ever
dreamed of
bicycling through that
city
wearing a
beret
and
Camus
always
pissed
me
off.
small conversation in the afternoon with John Fante
he said, "I was working in Hollywood when Faulkner was
working in Hollywood and he was
the worst: he was too drunk to stand up at the
end of the afternoon and so I had to help him
into a taxi day after day after day.
"but when he left Hollywood, I stayed on, and while I
didn't drink like that maybe I should have, I might have
had the guts then to follow him and get the hell out of
there."
I told him, "you write as well as
Faulkner."
"you mean that?" he asked from the hospital
bed, smiling.
Yes Yes
when God created love He didn't help most
when God created dogs He didn't help dogs
when God created plants that was average
when God created hate we had a standard utility
when God created me He created me
when God created the monkey He was asleep
when He created the giraffe He was drunk
when He created narcotics He was high
and when He created suicide He was low
when He created you lying in bed
He knew what He was doing
He was drunk and He was high
and He created the mountains and the sea and fire at the same time
He made some mistakes
but when He created you lying in bed
He came all over His Blessed Universe.