shine out in the wild kindness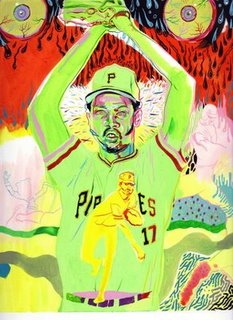 Dock Ellis, by James Blagden
* The
Illustrated History of Recreational Drugs and Sports
. excerpt:
1970 - Pittsburgh Pirates' pitcher Dock Ellis throws a no-hitter while tripping on LSD.
"The ball was small sometimes, the ball was large sometimes, sometimes I saw the catcher, sometimes I didn't. Sometimes I tried to stare the hitter down and throw while I was looking at him. I chewed my gum until it turned to powder. They say I had about three to four fielding chances. I remember diving out of the way of a ball I thought was a line drive. I jumped, but the ball wasn't hit hard and never reached me."
...
1982 - When N.L. East favorite Montreal Expos finish third, team president John McHale blames cocaine: "We felt we should've won in '82. When we all woke up to what was going on, we found there were at least eight players on our club who were into this thing." Rookie All-Star Tim Raines, the only user publicly identified says, "I had it in little gram bottles that I kept in my pocket…when I carried it in my pocket, I'd go in head first."
...
1985 - Curtis Strong, a Pittsburgh caterer, drug dealer, and friend to baseball players is tried on 16 counts of distributing cocaine in Pittsburgh from June 1980 to May 1984.
Players Lonnie Smith, Keith Hernandez, Lee Lacey, Enos Cabell, Rod Scurry, Dale Berra, Dave Parker, John Milner, Jeff Leonard, Tim Raines, Al Holland, Lee Mazilli and mascot Kevin Koch, known to keep cocaine in his beak as 'Pirate Parrot,' are listed as government witnesses and granted immunity.
Parker tells the court he had made it possible for his "primary supplier" to get into the Pirates' clubhouse at Three Rivers Stadium and to fly on the same plane with the Pirates when they traveled to other cities to deliver drugs.
Hernandez tells the court: cocaine was "the devil within me." He recalls using cocaine, including playing a game high.
Berra, subject to defense attorney Adam Renfroe Jr.'s questions during cross-examination, tells of drug use as a Pirate:
"Q. Where did you get them [amphetamine pills, or, 'greenies')?
A. From Bill Madlock. You could get them from Willie Stargell.
Q. So Willie Stargell gave you amphetamine pills?
A. Yes."
Lonnie Smith tells the court, "The majority of the time, I hid it on me, had these Playboy socks with pockets in them and I'd stick it in there. I had ways of folding my clothes, 10, 12 pairs of pants in a suitcase. I learned it from a Latin friend in Venezuela. People who wanted to check wouldn't take the time… We Federal Expressed it back and forth, I Federal Expressed the money, he Federal Expressed the stuff. He would use a phony address for his address. I thought it was kind of creative in a way. He'd send me newspapers from Philadelphia and tape the stuff inside the papers."
In cross-examination, Milner testifies regarding his tenure as a Met: "Willie had the red juice…
Q. Willie who?
A. Mays.
Q. Willie Mays?
A. That's right, the great one, yes."
Strong is convicted on 11 counts and sentenced to twelve years in federal prison.
* Top Ten
conservative idiots
. excerpt:
"10. Jack Burkman
"And finally, step forward Jack Burkman, you're the latest addition to our Republican Morals and Values Wall of Shame. GOP strategist Burkman is a true conservative - thinks Ann Coulter is aces, loves the Swiftboat guys, etc. He was also apparently Senate Republican counsel on Alfonse D'Amato's Whitewater Committee, and a big fan of Ken Starr.
"Nonetheless, being an upstanding Republican doesn't stop him from allegedly approaching young ladies on the street and badgering them for a quick threesome. The young lady in question was in Washington D.C. with her friends for the Pride parade. Here's what happened next, according to her MySpace blog (via Wonkette):
afterward, we got a snazzy hotel room at the mayflower downtown. on the way over there, this really hot business man in a pinstriped suit walked past me, said hello, and doubled back. he asked me my name and introduced himself (jack burkman, government relations strategies), asked where i went to school, etc, gave me his card, and asked me to call him. i later texted him and never could get rid of him again. he thought he talked to me on the phone several times, but he never did. i always made kat or kristin be me. he told kristin about how he really enjoyed my outfit (TITS GALORE) and that i was beautiful, etc. by the end of the night (5 am or so), he was offering to pay for our room and give us a thousand dollars if two of us would fuck him. oh, jack burkman. his card is my DC souvenir.'
It is too - she scanned it and put it up on MySpace.
"So if you ever happen to be in D.C. and find yourself accosted by a man who later attempts a thousand dollar booty call via text message, beware - he's probably a spokesman for the Republican party. See you next week!"
* "My mother drew a distinction between achievement and success. She said that achievement is the knowledge that you have studied and worked hard and done the best that is in you. Success is being praised by others, and that's nice, too, but not as important or satisfying. Always aim for achievement and forget about success." -- Helen Hayes