the new frontier is not that near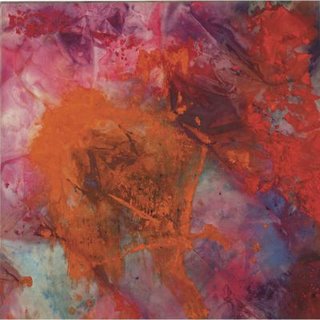 sam gilliam, blue unions
* Rumor or true?
Wayne Madsen
reports:
"George W. Bush's marital problems have just taken another turn for the worse. Apparently, Mr. Bush has not only engaged in an extra-marital affair with a member of the opposite sex who is also a senior member of his Cabinet, but also a member of the same sex. WMR received the following release this morning from Leola McConnell, Democratic candidate for Governor of Nevada (who has been endorsed by WMR). McConnell is a one-time professional dominatrix.
"'President Bush's speech to the nation Monday. If he doesn't say he's a gay American or at the least a bisexual one then he shouldn't be making one at all. And the notion that it would be in regards to writing bigotry into our nation's Constitution is reprehensible. Too bad it isn't me doing the rebuttal because in 1984, I watched him perform (with the enthusiasm of homosexual male who had done this many times before) a homosexual act on another man, namely Victor Ashe. Victor Ashe is the current Ambassador to the nation of Poland who should also come out like former Governor McGreevey of New Jersey and admit to being a gay American. Other homo-erotic acts were also performed by then private citizen George Bush because I performed one of them on him personally.
"'I am the woman this website (bushssecretlifein84.tripod.com) speaks of that has been posted on the net nearly two years now. None of this would be the business of anyone but President Bush's little ruse to save his failed presidency by using DOMA [Defense of Marriage Act] to divide Americans one from the other has to be exposed as the act of a desperate closeted homosexual man. The only crime in being GLBT is in the hiding. The President needs to come clean with the American people about his own past sexual behavior before he tries to besmirch the humanity of people in search of sincerely committing to the same bonds of matrimony he's afforded. He violated his own vows of monogamy having a homosexual affair with a long time family friend of whom his wife had no knowledge. His hypocrisy seems to know no bounds.
"'I had planned to run for governor of Nevada without going into any of this but his planned nationally televised address to the nation makes it necessary for me to address his attempt at division in as public a way as he picked to try this Bushification of reality regarding same sex marriages.
"Sincerely,
Leola McConnell
Liberal Democratic candidate for Governor of Nevada"
* Meat Loaf Will Not Be Bullied By Anyone:
"Meat Loaf, Grammy® award-winning musical artist and film actor whose albums have sold over 50 million copies worldwide, has filed suit in Federal Court in Los Angeles against songwriter Jim Steinman and his manager, David Sononberg, to uphold his right to use his album title, 'Bat Out of Hell.' Meat Loaf is preparing to release his much anticipated third installment of one of rock music's most successful series with 'Bat Out of Hell III: The Monster is Loose.' After 30 years of continuous and extensive use by Meat Loaf of 'Bat Out Of Hell' in record albums, tours, concerts and merchandise, Steinman is making unfounded and baseless claims to this valuable name.
"In 1995, without even consulting Meat Loaf, Steinman filed for a U.S. trademark for the phrase, 'Bat Out Of Hell'" despite the fact that Meat Loaf had used the 'Bat Out of Hell' mark continuously and extensively since 1977. In the application process, Steinman represented to the Patent Trademark Office that he had the exclusive right to the mark and that nobody else used the name – a blatantly false assertion since Meat Loaf for many years before and after 1995 has had sole and exclusive use of the name.
"When plans began to conceptualize 'Bat Out of Hell III,' Steinman was offered a position as producer as well as songwriter. Says 'Bat Out of Hell III' executive producer Winston Simone, 'Along with Jim's lawyer, we had negotiated by far the best producer agreement that we had ever seen. Unfortunately, Jim decided not to sign the agreement or accept the very substantial advance.'
"Steinman voluntarily removed himself from the making of 'Bat Out of Hell III – the Monster is Loose.' Since then, Steinman, his manager and lawyer, have approached Meat Loaf's labels, Universal and Virgin, falsely asserting trademark ownership and threatening litigation. According to attorney Miller, 'Meat Loaf will not be bullied by anyone. He will continue to use the title 'Bat Out of Hell' in any way he wants.'"
* "But we are none of us the great murderers of our mind, just simple fools stumbling toward what is expected of us." -- Robert Bingham
* Twofer Tuesday, Mountain Goats:
--
Against Pollution
--
Quito