my thoughts keep on turning to Bobby Peru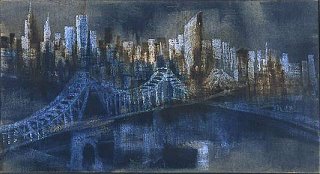 Rainer Fetting, Queensborough Bridge, 1993
Hemingway Dines on Boiled Shrimp and Beer
-- by Campbell McGrath
I'm the original two-hearted brawler.
I gnaw the scrawny heads from prawns,
pummel those mute, translucent crustaceans,
wingless hummingbirds, salt-water spawned.
As the Catalonians do, I eat the eyes at once.
My brawny palms flatten their mainstays.
I pop the shells with my thumbs, then crunch.
Just watch me as I swagger and sprawl,
spice-mad and sated, then dabble in lager
before I go strolling for stronger waters
down to Sloppy Joe's. My stride as I stagger
shivers the islands, my fingers troll a thousand keys.
My appetite shakes the rock of the nation.
The force of my miction makes the mighty Gulf Stream.
Chaplinesque
-- by Hart Crane
We make our meek adjustments,
Contented with such random consolations
As the wind deposits
In slithered and too ample pockets.
For we can still love the world, who find
A famished kitten on the step, and know
Recesses for it from the fury of the street,
Or warm torn elbow coverts.
We will sidestep, and to the final smirk
Dally the doom of that inevitable thumb
That slowly chafes its puckered index toward us,
Facing the dull squint with what innocence
And what surprise!
And yet these fine collapses are not lies
More than the pirouettes of any pliant cane;
Our obsequies are, in a way, no enterprise.
We can evade you, and all else but the heart:
What blame to us if the heart live on.
The game enforces smirks; but we have seen
The moon in lonely alleys make
A grail of laughter of an empty ash can,
And through all sound of gaiety and quest
Have heard a kitten in the wilderness.
Scrambled Eggs and Whiskey
-- by Hayden Carruth
Scrambled eggs and whiskey
in the false-dawn light. Chicago,
a sweet town, bleak, God knows,
but sweet. Sometimes. And
weren't we fine tonight?
When Hank set up that limping
treble roll behind me
my horn just growled and I
thought my heart would burst.
And Brad M. pressing with the
soft stick and Joe-Anne
singing low. Here we are now
in the White Tower, leaning
on one another, too tired
to go home. But don't say a word,
don't tell a soul, they wouldn't
understand, they couldn't, never
in a million years, how fine,
how magnificent we were
in that old club tonight.