Let the products sell themselves
Fuck advertising commercial psychology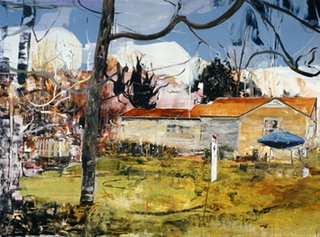 Tom McGrath, Sprinkler City, 2006
World Cup Soccer (2)
--by allan james saywell
Written while filled with elation
over Aussie victory in June 2006
American soccer team say-
All the money in the world
Will win many wars
But will not win soccer match
The Past is the Present
-- by Marianne Moore
If external action is effete
and rhyme is outmoded,
I shall revert to you,
Habakkuk, as when in a Bible class
the teacher was speaking of unrhymed verse.
He said - and I think I repeat his exact words -
"Hebrew poetry is prose
with a sort of heightened consciousness." Ecstasy affords
the occasion and expediency determines the form.
I Am in Need of Music
-- by Elizabeth Bishop
I am in need of music that would flow
Over my fretful, feeling fingertips,
Over my bitter-tainted, trembling lips,
With melody, deep, clear, and liquid-slow.
Oh, for the healing swaying, old and low,
Of some song sung to rest the tired dead,
A song to fall like water on my head,
And over quivering limbs, dream flushed to glow!
There is a magic made by melody:
A spell of rest, and quiet breath, and cool
Heart, that sinks through fading colors deep
To the subaqueous stillness of the sea,
And floats forever in a moon-green pool,
Held in the arms of rhythm and of sleep.
What Can We Do?
-- by Charles Bukowski
at their best, there is gentleness in Humanity.
some understanding and, at times, acts of
courage
but all in all it is a mass, a glob that doesn't
have too much.
it is like a large animal deep in sleep and
almost nothing can awaken it.
when activated it's best at brutality,
selfishness, unjust judgments, murder
By their works
-- by Bill Hicok
Who cleaned up the Last Supper?
These would be my people.
Maybe hung over, wanting
desperately a better job,
standing with rags
in hand as the window
beckons with hills
of yellow grass. In Da Vinci,
the blue robed apostle
gesturing at Christ
is saying, give Him the check.
What a mess they've made
of their faith. My God
would put a busboy
on earth to roam
among the waiters
and remind them to share
their tips. The woman
who finished one
half eaten olive
and scooped the rest
into her pockets,
walked her tiny pride home
to children who looked
at her smile and saw
the salvation of a meal.
All that week
at work she ignored
customers who talked
of Rome and silk
and crucifixions,
though she couldn't stop
thinking of this man
who said thank you
each time she filled
His glass.