everything that's made is made to decay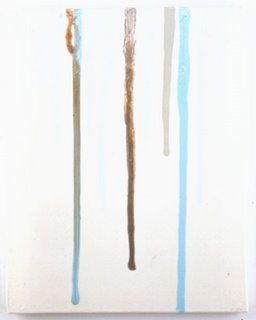 Kathryn Van Dyke, What Is and What Is Not, 2000
Post Station Zero
-- by whitman mcgowan
I stand in line because
the scale out front is busted
and I can't afford to pay extra postage.
At this office, station "O"
randy machiatto, bell captain of the st. francis
a secretly laid back deadhead in normie drag
buys stamps from a broken penny arcade robot.
As she methodically adds up the bill
a UPS man enters with a package for the station master.
She tells him to wait
and proceeds to take mellow randy's money.
By the time she counts the change
the UPS man has written on a yellow note
& stuck it on the wall beside her.
She looks up, asks, Where'd he go?
Two Poems for Frank O'Hara
-- by Campbell McGrath
1.
Tonight the clouds resemble French surrealists
soft and electric and hot to the touch
hustling north from the New York Public Library
as if to grab the lease of the vacant apartment on E. 49th Street
Frank O'Hara rented for $31 a month in 1952.
Poor clouds. They have no sense of time
and no one has told them about the market system
and, being French, the plane trees in Bryant Park
have filled their beautiful heads
with a lightning storm of longing for Paris.
2.
The School of O'Hara was like the School of Hard Knocks
only less so a school of tickles a school of muffled taps
a school of mittened hands at the piano assaying Rachmaninoff.
All in all Frank was a pretty good teacher he mostly taught
geometry mostly because of his fondness for Pi.
What could be more beautiful than Pi he often said to us
his faithful students who loved him dearly and not least
for a cognac stain in the shape of Delaware Bay on his collar
clearly visible in the light through the windows he threw open
those mornings to the cool clatter of city buses
and the pomp of geraniums potted in rusty cans along the sill
o! what could be more ruthless and beautiful and true
than a science built upon an indeterminable constant?
Music
-- by Frank O'Hara
If I rest for a moment near The Equestrian
pausing for a liver sausage sandwich in the Mayflower Shoppe,
that angel seems to be leading the horse into Bergdorf's
and I am naked as a table cloth, my nerves humming.
Close to the fear of war and the stars which have disappeared.
I have in my hands only 35c, it's so meaningless to eat!
and gusts of water spray over the basins of leaves
like the hammers of a glass pianoforte. If I seem to you
to have lavender lips under the leaves of the world,
I must tighten my belt.
It's like a locomotive on the march, the season
of distress and clarity
and my door is open to the evenings of midwinter's
lightly falling snow over the newspapers.
Clasp me in your handkerchief like a tear, trumpet
of early afternoon! in the foggy autumn.
As they're putting up the Christmas trees on Park Avenue
I shall see my daydreams walking by with dogs in blankets,
put to some use before all those coloured lights come on!
But no more fountains and no more rain,
and the stores stay open terribly late.