distance is up static is down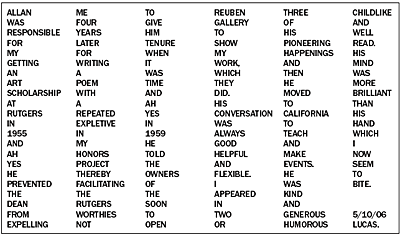 Lucas Samaras, untitled work for Allan Kaprow, 2006.
Allan Kaprow's death this spring at age seventy-eight, a profound loss by any measure, is all the more impropitious given the recent upsurge of interest in his work and the growing awareness of his contemporary relevance. While his happenings gained widespread notoriety in artistic circles and mass culture alike during the '60s and '70s, his evolving critical writings and activities both then and in later years resonate strongly within the context of today's vital considerations of performance and spectatorship, aesthetics and politics, and private experience in an age of spectacularized commerce.
[from artforum]
Sighting
-- by klipschutz
I was just walking down the street
and there stood Gregory Corso,
looking just like Gregory Corso --
to a T the spitting image
of himself.
(He was, in fact, spitting.)
I congratulated myself on such fine luck
my very first day in San Francisco,
and pushed on.
On Gifts For Grace
-- by Bernadette Mayer
I saw a great teapot
I wanted to get you this stupendous
100% cotton royal blue and black checked shirt,
There was a red and black striped one too
Then I saw these boots at a place called Chuckles
They laced up to about two inches above your ankles
All leather and in red, black or purple
It was hard to have no money today
I won't even speak about the possible flowers and kinds of lingerie
All linen and silk with not-yet-perfumed laces
Brilliant enough for any of the Graces
Full of luxury, grace notes, prosperousness and charm
But I can only praise you with this poem—
Its being is the same as the meaning of your name
Unusual Figures
-- by Barbara Guest
A person stands in the doorway. Someone
else goes to greet him.
They establish a calendar of meetings,
apricot color.
Once they arrived together
in a cab
of electricity,
cool heat, desert air.
The author attaches herself
to those figures
peculiar to her asking.
They are needed by the pageant of creativity!
The usual height and
dots of activeness.
Is it from the basket shrub?
Lightness of feet,
circle of grey, of green overlap.
What language
do they speak?