We'll play it out the best we know, whatever it is worth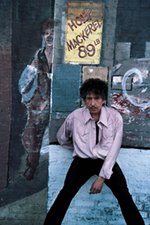 Happy Birthday Bob
Slaughterhouse 5000
-- by Eric Gerard Amblig
Tonight I watched a documentary on the Pancake.
A page weighed down by U.S. mint and human hair exhumed the body odor of a shape shifter
and through devastating superstitions
we unearthed how people really feel about L.A.
More than a month or two in outer space
is to risk a potential loss of some muscle tissue.
When I read that yesterday, I thought about
no more cross country journeys in the Aerostar,
no obelisk shaped pencil sharpeners from
the White House gift shop.
To simply waste away with a poor set of consciousness.
To never return home from gathering kindle
for the fire.
To die on a Wednesday.
No thanks, I'll snack on elderly crackers
and listen to the gilded paddle of the Rolodex
certain where I sit is harming no one.
My mangled dissertation on the divorce rate spilled
a chalky substance. Being obsessed with the smell of
my own fingers from keypads with mediocre perfumes
I'm prepared to unfold to you all my coital ambitions.
Sudden variables that rendered articulate balance.
It hadn't been the significance but the position.
Upsettingly virtual reality lost an edge a year ago,
a two-dimensional life with three-dimensional consequences.
Clues to which way the world is traveling I find
on Mennonite soap operas. Eagerly awaiting
the repetition of the past.
Though on a holiday I found a decoder ring nestled
deep inside the turkey, allowing me to
uncover the riches you hid in a Cherokee casino
providing the elements misplaced from a former life
I was told I once had
but by then, the tryptophan had set in
and the cat has its tail in my soup.
Charle Kiot
-- by Charles Potts
I sent my cock and balls across the lake
But they aborted
Meanwhile I got fucked
But failed to conceive
I never was a tough guy
But a beefed up chicken
Coming on like one
For the exhilarating effect
Now my balls come back to me across the water
What was really in the 40 mailboxes
I lived at for the last 10 years
Just like any runamuck American
History never sleeps with me
So I set out around the world
Wearing the rags of yesteryear
Tired of your act
Picture me in better clothes
Stirring the water in your heart
Handshake smile and a wave
Coming and going
Traveling light.
What I Learned From My Mother
-- by Julia Kasdorf
I learned from my mother how to love
the living, to have plenty of vases on hand
in case you have to rush to the hospital
with peonies cut from the lawn, black ants
still stuck to the buds. I learned to save jars
large enough to hold fruit salad for a whole
grieving household, to cube home-canned pears
and peaches, to slice through maroon grape skins
and flick out the sexual seeds with a knife point.
I learned to attend viewing even if I didn't know
the deceased, to press the moist hands
of the living, to look in their eyes and offer
sympathy, as though I understood loss even then.
I learned that whatever we say means nothing,
what anyone will remember is that we came.
I learned to believe I had the power to ease
awful pains materially like an angel.
Like a doctor, I learned to create
from another's suffering my own usefulness, and once
you know how to do this, you can never refuse.
To every house you enter, you must offer
healing: a chocolate cake you baked yourself,
the blessing of your voice, your chaste touch.
--
Reminder
:
the foreign press
will be playing DCs
Black Cat
on Thursday June 8, 2006, in support of
The Caribbean
. $7, hope to see you there.
-- back Tuesday.