Well I rode out to the ocean
And the water looked like tarnished gold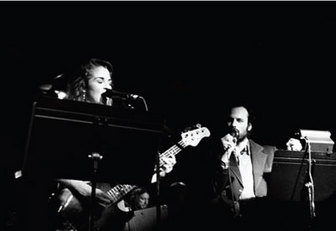 The Silver Jews performing at the 40 Watt Club, Athens, GA, March 10, 2006. Photo: Brian Farinas.
-- from artforum (by Friedrich Kunath):
"After fourteen years making music, the Silver Jews, led by poet-singer David Berman, went on tour for the first time, starting on March 10 at the 40 Watt Club in Athens, GA. I had never previously been in an audience that was as nervous as the band performing, but our worries were unwarranted—what transpired was the most heartfelt concert I have ever seen. When David's wife, Cassie, in a song about addiction, mused, 'If it gets really, really bad / if it ever gets really, really bad,' and he responded, 'Let's not kid ourselves / it gets really, really bad,' we realized that their call-and-responses would be the first we could all relate to.
* In DC? Mark Your Calendars for Thursday June 8, 2006. That evening
the foreign press
are playing
the black cat
, supporting the acclaimed dc band
the caribbean
. doors @ 9pm.
* From the May 2006
Harper's
:
-- Number of times that Mary, Jesus' mother, is referenced by name in the Bible and the Koran, respectively: 19, 34
-- Percentage change last year in the number of CDs sold at Starbucks: + 307
-- Ratio, in the United States, of the number of Wal-Mart employees to the number of high school teachers: 1:1
-- Estimated number of Ugandan prisoners who escaped in February while guards celebrated the president's reelection: 400
* Apparently May is
National Masturbation Month
. from the essay at the link, we learn, among other things, that:
"the word 'testify' tells us a little something about masturbation and truth, coming, as it does, from the same Latin root as the words 'testament,' 'testimony,' and 'testicles.' See, way back in Old Testament times, when our forefathers swore an oath, they didn't put their hands on the Bible, because these were Bible times, and the Bible hadn't been written yet. When our forefathers testified, they put their hands on their testicles. That's right, they swore by their family jewels! Telling the truth (for a man) was assured by the public act of squeezing, stroking or gently cupping one's sac. "
and:
"Mark Twain, in between penning literary masterpieces, spoke of masturbation with satiric yet compassionate, truthtelling eloquence: 'to the lonely it is company; to the forsaken it is a friend; to the aged and impotent it is a benefactor; they that are penniless are yet rich, in that they still have this majestic diversion.'
* From
Jules et Jim
: a clip of
Jeanne Moreau singing
.
* The Hungry Cabbie picks up an old friend of
Bob Dylan
. excerpt:
"I picked up a fifty-something blond woman in Chelsea, and we drove in silence across the 59th Street Bridge toward LaGuardia Airport. I had been listening to a Dylan mix tape when she got in, and once Tombstone Blues was over, I popped in a Springsteen tape.'Who is this?' she asked. 'This is The Boss . . . and before that we were listening to Dylan,' I told her, happy to break the silence. 'Oh, I know that was Dylan, I used to live with him,' she said with a smirk. That is the type of comment I don't just let go. She was a little reluctant to talk about it, but I threatened to pull the cab over if she didn't give up the story.
"It turns out she lived with Bob Dylan in The Village during the Gaslight coffee house era of early 60's. She admitted, without a hint of shame in her voice (good for her), that she'd been a Playboy bunny at the now long-defunct Playboy Club. Dylan took a liking to her, and they had about a six month fling.
"Other old New Yorkers have told me, and she confirmed, that housing was much more fluid back then. People moved in an out of apartments all the time. Living together was not nearly as big a deal then as it is today. I wanted to know if he sang to her, and she responded very abruptly 'no.'
"She also went on a few dates with Woody Allen around the same time. She must have been one hell of a bunny. The real kick in the ass was, not only did Dylan not sing to her, Woody Allen never told her jokes. What was the point?"