the music swells somehow stronger from adversity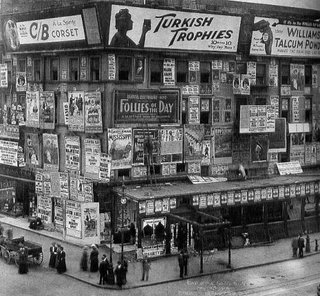 times square, 1909, photographer unknown
* Williams Rivers Pitt
takes down
Washington Post columnist Richard Cohen. The smackdown concludes:
"This isn't Vietnam, Mr. Cohen. This is a whole new ballgame, and the stakes are higher by orders of magnitude. It took almost ten years of Vietnam for people to reach the boiling point you are so apparently horrified by (and worthy of note, that rage may have elected Nixon, but also served to stop the killing in Southeast Asia). Should those of us who are angry today wait until 2013 to raise hell?
"At a minimum, I suggest you head down to your local hardware store and buy a few sheets of 40-grit sandpaper. Apply it liberally - pardon the pun - to any and all parts of your body that may be exposed to the scary anger of the anti-war Left. Toughen up that hide of yours, and greet the coming days with a leathery mien impervious to a few angry emails.
"Afterwards, you could perhaps figure out why the anger of those who see this war as a crime and this administration as a disaster is so terribly threatening to you. Anger is a gift, after all, one that inspires change. If you don't think we need a change, real change, I can only shake my head.
"P.S. Another reason for the anger you have absorbed can be laid, frankly, at your own feet. There are enough of us around who can still remember your words from November of 2000: 'Given the present bitterness, given the angry irresponsible charges being hurled by both camps, the nation will be in dire need of a conciliator, a likable guy who will make things better and not worse. That man is not Al Gore. That man is George W. Bush.'
"Locate a mirror, Mr. Cohen. Stare deep within it. Know full well that today, and tomorrow, and tomorrow, will recast all your yesterdays as having passed like a comforting dream. Your ability to remain within the safe bubble of the beltway clubhouse, drifting this way and that in some meandering, rudderless fog, has ended. Al Gore invented the internet, or so we are told, and some bright-eyed editor decided to staple your email address to the bottom of your works. Welcome to the age of electronic accountability."
* The
48 hour film project
, which challenges participants to put together a 5 minute film over the course of a weekend, is screening the 100 entries from the Washington, D.C.-area, this week (screenings at 7pm and 9:30pm) at the
American Film Institute
.
* "The image of desolation has been an obsession for me since my first poems. To be precise, the desert was in me: from it was born . . . the motion and the feeling of infinity, of the primordial, of the decline into nothingness." -- Giuseppe Ungaretti