I was in a three-piece band
And there were no strings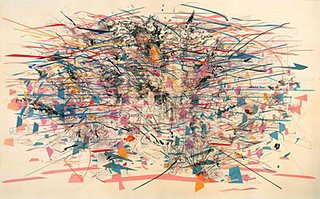 Julie Mehretu, Renegade Delirium, 2002
The Movie Version
-- by Elaine Equi
I am reading Emily Dickinson
when suddenly her poem begins speaking
in the voice of Mia Farrow - a young Mia
as she was in
Rosemary's Baby
recites: "Heart! We will forget him!
You and I - tonight!" with resolution
in her strange faux English accent
as if she were speaking about Frank Sinatra.
And later I hear Haley Mills and Grace Kelly
try on the same line but with less conviction
so ultimately, it is Mia Farrow who stars
in my movie version, with her long hair
dyed blue-black and later crew-cut.
Mia Farrow who stands at the top of a stair
clutching a knife. "You may forget the warmth
he gave - I will forget the light!"
Mia Farrow in Victorian nightgown. Mia Farrow
in a poorboy and skirt, walks by herself,
visiting each word slowly as if it were a grave
on which she places the next word.
"When you have done pray tell me
That I may straight begin!"
Mia Farrow hails a cab. "Haste! lest while
you're lagging I remember him!"
The Banal
-- by Elaine Equi
Even with its shitload of artifacts, the everyday is radiant, while the banal is opaque and often obscure. I prefer the latter, with its murky agate, mushroom, ochre background music - its corridor of lurk. One hardly knows where one stands with/in the banal. Walls come together with hardly a seam. Wherever we are, we feel we have always been. Poe, for all his special effects, is rather banal in his approach to the supernatural, i.e. overly familiar. Against the inarticulate velvet of this mood, one grasps at the everyday for relief. Thus any object can bring us back with the fast-acting power of aspirin. Any object shines.
Fantasy Block
-- by Ron Padgett
I would like to have a sexual fantasy
about the young girl I see in the gym,
the one who undulates up and down
on an aerobic machine revealing
the smooth skin of her lower back
as it swells out toward her hips,
her hair pulled up in back
with a tortoiseshell clasp
and a misty blush spreading
from her high cheekbones back
to her ears in each of which
a small silver ring is glittering,
but I can't think of anything.
Throwaway
-- by Edmund Berrigan
Another milkman stitched
His portico in shower silk
A daily slog of chemical activity
Mourn o falsetto would you be xtian
Where down by the wheel we all like to kneel
Joint cut plastic kiss on the potable edge
This is where hallucinations struggle to lose
A hill patched with flowers and bees
Diffident strides a-pondering
Crying to the mothridden archetypes of Seth
For subjects with whom to objectify with death
To decipher the ornament I retrieve my mount
When alcohol was a nation with a drawer full of stallions