the evening sun will be so sweet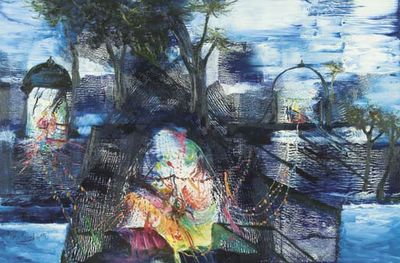 manu parekh, untitled
* Top ten
conservative idiots
. excerpt:
"8. Dick Cheney
"Last week Dick Cheney emerged as a key player in two different Bush Administration Scandals.
The New York Times reported that immediately following the 9/11 attacks, the Vice President 'argued that the National Security Agency should intercept purely domestic telephone calls and e-mail messages without warrants.' To those of you who try to argue that this is a completely sensible and legal position to take, I would draw your attention to the phrases 'purely domestic' and 'without warrants.' Last time I checked, the US Constitution -- including that whole annoying "Bill of Rights" part -- was still the law of the land.
"And Newsweek reported that some rather interesting vice-presidential chicken-scratchings are now a matter of public record in Patrick Fitzgerald's CIA Leak Case. On a copy of Joe Wilson's July 2003 New York Times Op-Ed, the revenge-crazed Vice-Leaker wrote:'"Have they done this sort of thing before? Send an Amb. to answer a question? Do we ordinarily send people out pro bono to work for us? Or did his wife send him on a junket?' According to Newsweek, the handwritten notes 'appear to make Cheney an even more central witness than had been previously thought in the criminal probe.'
"Now there's a shocker! Who knew that Dick Cheney was actually the guy calling the shots in the Bush Administration? "
--
related
: Steve Almond
quits
his postition as an adjunct professor of English at Boston College, after Condoleezza Rice is scheduled to speak at graduation. excerpt:
"But I am not writing this letter simply because of an objection to the war against Iraq. My concern is more fundamental. Simply put, Rice is a liar.
"She has lied to the American people knowingly, repeatedly, often extravagantly over the past five years, in an effort to justify a pathologically misguided foreign policy.
"The public record of her deceits is extensive. During the ramp-up to the Iraq war, she made 29 false or misleading public statements concerning Iraq's weapons of mass destruction and links to Al Qaeda, according to a congressional investigation by the House Committee on Government Reform.
"To cite one example: In an effort to build the case for war, then-National Security Adviser Rice repeatedly asserted that Iraq was pursuing a nuclear weapon, and specifically seeking uranium in Africa.
"In July of 2003, after these claims were disproved, Rice said: ''Now if there were doubts about the underlying intelligence . . . those doubts were not communicated to the president, the vice president, or to me.'
"Rice's own deputy, Stephen Hadley, later admitted that the CIA had sent her a memo eight months earlier warning against the use of this claim.
"In the three years since the war began, Rice has continued to misrepresent or simply ignore the truth about our deadly adventure in Iraq.
"Like the president whom she serves so faithfully, she refuses to recognize her errors or the tragic consequences of those errors to the young soldiers and civilians dying in Iraq. She is a diplomat whose central allegiance is not to the democratic cause of this nation, but absolute power.
"This is the woman to whom you will be bestowing an honorary degree, along with the privilege of addressing the graduating class of 2006."
* The accounting behind
Ikea
. excerpt:
"Few tasks are more exasperating than trying to assemble flat-pack furniture from IKEA. But even that is simple compared with piecing together the accounts of the world's largest home-furnishing retailer. Much has been written about IKEA's remarkably effective retail formula. The Economist has investigated the group's no less astonishing finances.
"What emerges is an outfit that ingeniously exploits the quirks of different jurisdictions to create a charity, dedicated to a somewhat banal cause, that is not only the world's richest foundation, but is at the moment also one of its least generous. The overall set-up of IKEA minimises tax and disclosure, handsomely rewards the founding Kamprad family and makes IKEA immune to a takeover. And if that seems too good to be true, it is: these arrangements are extremely hard to undo. The benefits from all this ingenuity come at the price of a huge constraint on the successors to Ingvar Kamprad, the store's founder, to do with IKEA as they see fit.
"Although IKEA is one of Sweden's best-known exports, it has not in a strict legal sense been Swedish since the early 1980s. The store has made its name by supplying Scandinavian designs at Asian prices. Unusually among retailers, it has managed its international expansion without stumbling. Indeed, its brand—which stands for clean, green and attractive design and value for money—is as potent today as it has been at any time in more than 50 years in business.
"The parent for all IKEA companies—the operator of 207 of the 235 worldwide IKEA stores—is Ingka Holding, a private Dutch-registered company. Ingka Holding, in turn, belongs entirely to Stichting Ingka Foundation. This is a Dutch-registered, tax-exempt, non-profit-making legal entity, which was given the shares of Mr Kamprad in 1982. Stichtingen, or foundations, are the most common form of not-for-profit organisation in the Netherlands; tens of thousands of them are registered."
* "We have two American flags always: one for the rich and one for the poor. When the rich fly it means that things are under control; when the poor fly it means danger, revolution, anarchy." -- Henry Miller