A cold and fruity drink awaits us both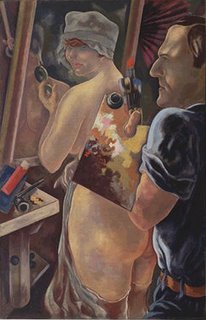 George Grosz, self portrait with model, 1928
potheads and sudafed
, by john tierney. excerpt:
"Police officers in the 1960's were fond of bumper stickers reading: 'The next time you get mugged, call a hippie.' Doctors today could use a variation: 'The next time you're in pain, call a narc.'
"Washington's latest prescription for patients in pain is the statement issued last week by the Food and Drug Administration on the supposed evils of medical marijuana. The F.D.A. is being lambasted, rightly, by scientists for ignoring some evidence that marijuana can help severely ill patients. But it's the kind of statement given by a hostage trying to please his captors, who in this case are a coalition of Republican narcs on Capitol Hill, in the White House and at the Drug Enforcement Administration.
"They've been engaged in a long-running war to get the F.D.A. to abandon some of its quaint principles, like the notion that it's not fair to deny a useful drug to patients just because a few criminals might abuse it. The agency has also dared to suggest that there should be a division of labor when it comes to drugs: scientists and doctors should figure out which ones work for patients, and narcotics agents should catch people who break drug laws."
...
"This month, pharmacists across the country are being forced to lock up another menace to society: cold medicine. Allergy and cold remedies containing pseudoephedrine, a chemical that can illegally be used to make meth, must now be locked behind the counter under a provision in the new Patriot Act.
"Don't ask what meth has to do with the war on terror. Not even the most ardent drug warriors have been able to establish an Osama-Sudafed link."
...
"The Sudafed law gives you a preview of what's in store if Representative Frank Wolf, a Virginia Republican, succeeds in giving the D.E.A. a role in deciding which new drugs get approved. So far, despite a temporary success last year, he hasn't been able to impose this policy, but the F.D.A.'s biggest fear is that Congress will let the drug police veto new medications. In that case, who would ever develop a better painkiller? The benefits to patients would never outweigh the potential inconvenience to the police.
"Officially, the D.E.A. says it wants patients to get the best medicine. But look at what it's done to scientists trying to study medical marijuana. They've gotten approval for their experiments from the F.D.A., but they can't get the high-quality marijuana they need because the D.E.A. won't allow it to be grown. The F.D.A. actually wants to know if the drug works, but the D.E.A. is following the just-say-know-nothing strategy: as long as researchers can't study marijuana, they can't come up with evidence that it's effective."
* Coffee crisis on
horizon
. excerpt:
"Coffee futures may spike next year because of a looming shortage of green coffee beans caused by growing consumer demand coupled with an off year in Brazil's biennial crop cycle. Still, coffee traders have not yet priced in the risk of a deficit, reducing the probability that roasters will soon raise their list prices, which are used as a measure for setting prices for coffee shipped to supermarkets and store chains.
"The International Coffee Organization expects world production in the 2006/07 season to reach 120 million 60-kg bags, up from about 107 million bags the previous season, thanks in large part to top coffee grower Brazil. That's the good news. The trouble is that carryover stocks are low, consumption is rising and the coffee harvest in Brazil, which annually produces between 30-40 percent of world output, is based on a biennial cycle.
"Brazilian coffee officials put the 2006/07 (July/June) crop at 40.62 million 60-kg bags, up 23 percent from the previous season due to an uptrend in arabica's biennial crop cycle. But the country's 2007/08 harvest could drop to about 37 million bags, according to a Reuters poll earlier this month.Global coffee consumption in 2006 is forecast between 118 and 123 million bags. And future supply may not be enough to cover growing demand fueled largely by emerging coffee markets in Asia and eastern Europe, as well as in producing countries."
* "You can travel fifty thousand miles in America without once tasting a piece of good bread." -- Henry Miller
*
Talking Heads demos
. [
via
]