well you certainly are nice people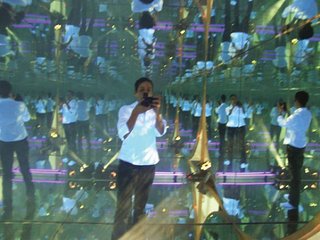 nadine spinoza, untitled
* Top ten
conservative idiots
. excerpt:
"10. Penn State College Republicans
"And finally, College Republicans have been featured on the list many times for lending their voices to the national dialogue in ways which will go down in history as profoundly racist, homophobic, or just plain stupid. And they apparently have no intention of stopping.
"Last week, College Republicans at Penn State University announced their intention to join the raging debate on immigration by playing a 'Catch an Illegal Immigrant Game.' I know you can't wait to learn how to play this game, so I'll tell you. According to the Pittsburgh Post-Gazette, 'People would be invited to 'catch' group members wearing orange shirts symbolizing illegal aliens.'
"Then what? Sadly, the Post-Gazette doesn't say. Are they deported from campus? Beaten up? Handed over to the 'Minutemen?' They're wearing orange shirts, so perhaps the College Republicans are suggesting that they should be sent to Guantanamo Bay. No, wait - I've got it. They're going to put them to work cleaning their dorms for two bucks an hour.
"Anyway, the idea was deemed to be an incredibly bad one by all concerned - apart from the chairman of the PSU College Republicans who said of his detractors, 'I think they're just misinformed.'
"Look out for the PSU College Republicans' next exciting event, the 'Stop a Gay Wedding Game,' where participants will track down pairs of same-sex couples wearing pink shirts and then lock them up until they convert to heterosexuality."
* Neil Young's
Impeach the president
song, recorded with a 100 voice choir, drops soon.
--
related
: additional
details of Neil Young album
:
"Whilst details of the 10-song recording are still incomplete - it is known that he is accompanied by Chad Cromwell on drums, Rick Rosas on bass and Tommy Bray on trumpet - a further insight into what to expect has come from the California-based musician Alicia Morgan, who was recruited to be part of the 100-strong choir. In an entry on her blog on Friday she wrote: 'Have you, like me, been recalling the great protest songs of the Sixties, and wondered where the new protest songs are? Yesterday, I found out.' She said she and the other singers read off the lyrics as they flashed onto a giant screen, with cheers of approval coming up from the choir. With the main tracks having been previously recorded, Young himself directed the backing singers. 'Turns out the whole thing is a classic beautiful protest record. The session was like being at a 12-hour peace rally,' she said.
"Every time new lyrics would come up on the screen, there were cheers, tears and applause. It was a spiritual experience ... We finished the session by singing an a cappella version of 'America the Beautiful' and there was not a dry eye in the house.' She added: 'I've never been at a recording session that was more like being at church. Heck, I've never been to a church that was more like a church than that session.' Speaking from Sherman Oaks, California, yesterday Morgan told The Independent that many people liked Neil Young because he 'pisses everybody off.'
and in Neil's words: "I just finished a new record -- a power trio with trumpet and 100 voices, I think it is a metal version of Phil Ochs and Bob Dylan."
* "Everything in creation has its appointed painter or poet and remains in bondage like the princess in the fairy tale 'til its appropriate liberator comes to set it free." -Ralph Waldo Emerson