the stars don't shine upon us
we're in the way of their light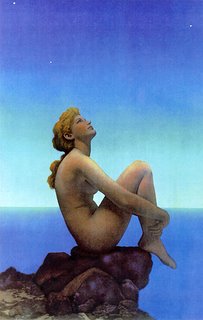 maxfield parrish, stars
The More Loving One
-- by W.H. Auden
Looking up at the stars, I know quite well
That, for all they care, I can go to hell,
But on earth indifference is the least
We have to dread from man or beast.
How should we like it were stars to burn
With a passion for us we could not return?
If equal affection cannot be,
Let the more loving one be me.
Admirer as I think I am
Of stars that do not give a damn,
I cannot, now I see them, say
I missed one terribly all day.
Were all stars to disappear or die,
I should learn to look at an empty sky
And feel its total darkness sublime,
Though this might take me a little time.
Happiness
-- by Louise Gluck
A man and a woman lie on a white bed.
It is morning. I think
Soon they will waken.
On the bedside table is a vase
of lilies; sunlight
pools in their throats.
I watch him turn to her
as though to speak her name
but silently, deep in her mouth--
At the window ledge,
once, twice,
a bird calls.
And then she stirs; her body
fills with his breath.
I open my eyes; you are watching me.
Almost over this room
the sun is gliding.
Look at your face, you say,
holding your own close to me
to make a mirror.
How calm you are. And the burning wheel
passes gently over us.
The Truth the Dead Know
-- by Anne Sexton
For my Mother, born March 1902, died March 1959
and my Father, born February 1900, died June 1959
Gone, I say and walk from church,
refusing the stiff procession to the grave,
letting the dead ride alone in the hearse.
It is June. I am tired of being brave.
We drive to the Cape. I cultivate
myself where the sun gutters from the sky,
where the sea swings in like an iron gate
and we touch. In another country people die.
My darling, the wind falls in like stones
from the whitehearted water and when we touch
we enter touch entirely. No one's alone.
Men kill for this, or for as much.
And what of the dead? They lie without shoes
in the stone boats. They are more like stone
than the sea would be if it stopped. They refuse
to be blessed, throat, eye and knucklebone.
* Friday bonus:
watch this
hilarious live late night ad for a San Francisco-area car dealer which aired in the early 1970s. they don't make 'em like this anymore (possibly NSFW due to excessive swearing).