so many beautiful days in a row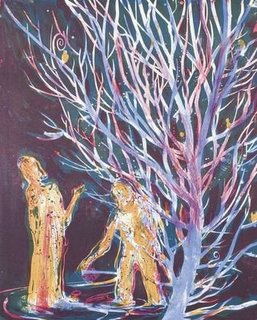 daniel richter, flagge
digital recording (after eliot)
-- by Joanne Burns
one thinks of all the hands
that whip money out of ATMs
quick as condoms, headache pills;
that jiggle herbal tea bags in thick
mugs like puppeteers; that fill
out lotto forms on a stream of
thin white shelves; that are
dropping shaggy track pants on
the floor beside a bed, that
press touchfones more than flesh;
that vote in cardboard booths
with short lead pencils, tied
to string like small harpoons:
that tremble at the mirror too
close to the patinas of their skin;
one thinks of all the hands, burning
teaspoons in a thousand motel rooms
Higher Maths
-- by Cassie Lewis
The News muted by blank snow.
Drivers' coffee dawn. Promised
cures. Music conjugates the verb
to witness, holding forth. Parish
of all light: shelter those on foot.
Broken town: two trucks collide,
and at one juncture a frozen face
looks more formal than the trees.
Strand
-- by Cassie Lewis
I jolt awake. Remember beer for breakfast
in seedy bars. Furnishings close in, suddenly, their sweat.
What is this wanderlust
decorating.
Stay here wrestling smallest things,
this broken morning.
It is unremitting —
must I force this door?
Haven. You sit still in your chair,
like an absolution. Each of your knuckles burns
white hot on the armrest. You are a saint,
I just pose as someone awake.
How do I tear this parcel open? Are you
the glow inside?
I wiped the smoke off the walls
but I can't stop the forest.
It blows through the door's wooden slats as
we confer. Late night TV
glares, and murmurs
'I'll love you through this.'
Shed
-- by Frank Stanford
The old woman washed my socks
Light went through my hair
Like a school of minnows
Death had a socket wrench
That'd fit any nut
He knows a little tune
You can't carry
Death say he give you credit
You better not sign
A journey is just like a journey
The so-called mystery of death
Will run you about an even seven bucks
Go ahead and see
This includes a washtub of beer
Advice on love
Snake oil on your tally-whacker
Wind blows over our plots
Whistling up the butt of our deaths
I could be anywhere
Wind on the island at night
Not the schoolbell full of mud