you're so good at being a bad example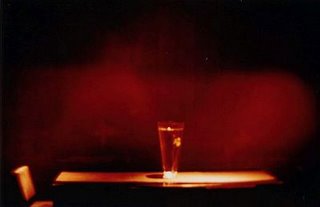 luca pagliari, six minutes of eternity
Keeping Things Whole
-- by Mark Strand
In a field
I am the absence
of field.
This is
always the case.
Wherever I am
I am what is missing.
When I walk
I part the air
and always
the air moves in
to fill the spaces
where my body's been.
We all have reasons
for moving.
I move
to keep things whole.
Living in Sin
-- by Adrienne Rich
She had thought the studio would keep itself;
no dust upon the furniture of love.
Half heresy, to wish the taps less vocal,
the panes relieved of grime. A plate of pears,
a piano with a Persian shawl, a cat
stalking the picturesque amusing mouse
had risen at his urging.
Not that at five each separate stair would writhe
under the milkman's tramp; that morning light
so coldly would delineate the scraps
of last night's cheese and three sepulchral bottles;
that on the kitchen shelf among the saucers
a pair of beetle-eyes would fix her own---
envoy from some village in the moldings . . .
Meanwhile, he, with a yawn,
sounded a dozen notes upon the keyboard,
declared it out of tune, shrugged at the mirror,
rubbed at his beard, went out for cigarettes;
while she, jeered by the minor demons,
pulled back the sheets and made the bed and found
a towel to dust the table-top,
and let the coffee-pot boil over on the stove.
By evening she was back in love again,
though not so wholly but throughout the night
she woke sometimes to feel the daylight coming
like a relentless milkman up the stairs.
I Am in Need of Music
-- by Elizabeth Bishop
I am in need of music that would flow
Over my fretful, feeling fingertips,
Over my bitter-tainted, trembling lips,
With melody, deep, clear, and liquid-slow.
Oh, for the healing swaying, old and low,
Of some song sung to rest the tired dead,
A song to fall like water on my head,
And over quivering limbs, dream flushed to glow!
There is a magic made by melody:
A spell of rest, and quiet breath, and cool
Heart, that sinks through fading colors deep
To the subaqueous stillness of the sea,
And floats forever in a moon-green pool,
Held in the arms of rhythm and of sleep.
Ask Me
-- by William Stafford
Some time when the river is ice ask me
mistakes I have made. Ask me whether
what I have done is my life. Others
have come in their slow way into
my thought, and some have tried to help
or to hurt: ask me what difference
their strongest love or hate has made.
I will listen to what you say.
You and I can turn and look
at the silent river and wait. We know
the current is there, hidden; and there
are comings and goings from miles away
that hold the stillness exactly before us.
What the river says, that is what I say.