second floor of a church stop me if it hurts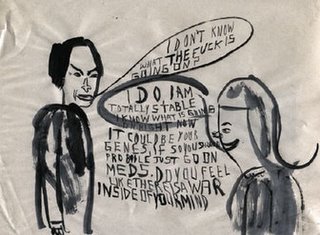 Chris Johanson, Untitled, 2001
Seeker Of Truth
-- by ee cummings
seeker of truth
follow no path
all paths lead where
truth is here
Mingus At The Showplace
-- by William Matthews
I was miserable, of course, for I was seventeen
and so I swung into action and wrote a poem
and it was miserable, for that was how I thought
poetry worked: you digested experience shat
literature. It was 1960 at The Showplace, long since
defunct, on West 4th st., and I sat at the bar,
casting beer money from a reel of ones,
the kid in the city, big ears like a puppy.
And I knew Mingus was a genius. I knew two
other things, but as it happens they were wrong.
So I made him look at this poem.
"There's a lot of that going around," he said,
and Sweet Baby Jesus he was right. He glowered
at me but didn't look as if he thought
bad poems were dangerous, the way some poets do.
If they were baseball executives they'd plot
to destroy sandlots everywhere so that the game
could be saved from children. Of course later
that night he fired his pianist in mid-number
and flurried him from the stand.
"We've suffered a diminuendo in personnel,"
he explained, and the band played on.
Dutch Interiors
-- by Jane Kenyon
Christ has been done to death
in the cold reaches of northern Europe
a thousand thousand times.
Suddenly bread
and cheese appear on a plate
beside a gleaming pewter beaker of beer.
Now tell me that the Holy Ghost
does not reside in the play of light
on cutlery!
A Woman makes lace,
with a moist-eyed spaniel lying
at her small shapely feet.
Even the maid with the chamber pot
is here; the naughty, red-cheeked girl. . . .
And the merchant's wife, still
in her yellow dressing gown
at noon, dips her quill into India ink
with an air of cautious pleasure.
She Didn't Mean To Do It
-- by Daisy Fried
Oh, she was sad, oh, she was sad.
She didn't mean to do it.
Certain thrills stay tucked in your limbs,
go no further than your fingers, move your legs through their paces,
but no more. Certain thrills knock you flat
on your sheets on your bed in your room and you fade
and they fade. You falter and they're gone, gone, gone.
Certain thrills puff off you like smoke rings,
some like bell rings growing out, out, turning
brass, steel, gold, till the whole world's filled
with the gonging of your thrills.
But oh, she was sad, she was just sad, sad,
and she didn't mean to do it.