can you tell the answer from the ants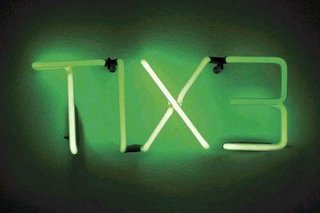 cerith wyn evans, exit
untitled
-- by ee cummings
the boys i mean are not refined
they go with girls who buck and bite
they do not give a fuck for luck
they hump them thirteen times a night
one hangs a hat upon her tit
one carves a cross in her behind
they do not give a shit for wit
the boys i mean are not refined
they come with girls who bite and buck
who cannot read and cannot write
who laugh like they would fall apart
and masturbate with dynamite
the boys i mean are not refined
they cannot chat of that or this
they do not give a fart for art
they kill like you would take a piss
they speak whatever's on their mind
they do whatever's in their pants
the boys i mean are not refined
they shake the mountains when they dance
What Are Years?
-- by marianne moore
What is our innocence,
what is our guilt? All are
naked, none is safe. And whence
is courage: the unanswered question,
the resolute doubt, -
dumbly calling, deafly listening-that
in misfortune, even death,
encourage others
and in it's defeat, stirs
the soul to be strong? He
sees deep and is glad, who
accededs to mortality
and in his imprisonment rises
upon himself as
the sea in a chasm, struggling to be
free and unable to be,
in its surrendering
finds its continuing.
So he who strongly feels,
behaves. The very bird,
grown taller as he sings, steels
his form straight up. Though he is captive,
his mighty singing
says, satisfaction is a lowly
thing, how pure a thing is joy.
This is mortality,
this is eternity.
the great fires
-- by Jack Gilbert
Love is apart from all things.
Desire and excitement are nothing beside it.
It is not the body that finds love.
What leads us there is the body.
What is not love provokes it.
What is not love quenches it.
Love lays hold of everything we know.
The passions which are called love
also change everything to a newness
at first. Passion is clearly the path
but does not bring us to love.
It opens the castle of our spirit
so that we might find the love which is
a mystery hidden there.
Love is one of many great fires.
Passion is a fire made of many woods,
each of which gives off its special odor
so we can know the many kinds
that are not love. Passion is the paper
and twigs that kindle the flames
but cannot sustain them. Desire perishes
because it tries to be love.
Love is eaten away by appetite.
Love does not last, but it is different
from the passions that do not last.
Love lasts by not lasting.
Isaiah said each man walks in his own fire
for his sins. Love allows us to walk
in the sweet music of our particular heart.
* Bars & Guitars
reviews
the new Dust Congress Records release, SJBB3P: Part 2. Drop a line if you'd like a copy.