We're gonna kill the California girls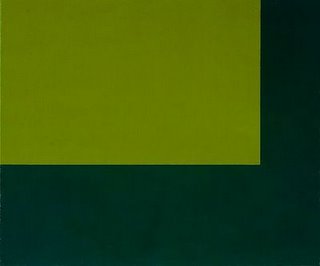 helmut federle, cornerfield painting
Inevitability
-- by MTC Cronin
Everything fails.
So why bother calling it that.
It doesn¹t distinguish anything.
Why bother when everyone bothers.
Except for a few.
They succeed in failing before the rest.
(They know what to call it.
(And don¹t bother doing so.))
Success is inevitable.
When We Are Lost
-- by Carson McCullers
When we are lost what image tells?
Nothing resembles nothing. Yet nothing
Is not blank. It is configured Hell:
Of noticed clocks on winter afternoons, malignant stars,
Demanding furniture. All unrelated
And with air between.
The terror. Is it of Space, of Time?
Or the joined trickery of both conceptions?
To the lost, transfixed among the self-inflicted ruins,
All that is non-air (if this indeed is not deception)
Is agony immobilized. While Time,
The endless idiot, runs screaming round the world
Torn Shades
-- by Thomas Lux
How, in the first place, did
they get torn-pulled down hard
too many times: to hide a blow,
or sex, or a man
in stained pajamas? The tear blade-shaped,
serrated, in tatters. And once,
in a house flatside to a gas station,
as snow fell at a speed and angle you could lean on,
two small hands (a patch of throat, a whip
of hair across her face)-
two small hands
parting a torn shade
to welcome a wedge of gray sunlight into that room.
Homage to My Hips
-- by Lucille Clifton
these hips are big hips.
they need space to
move around in.
they don't fit into little
petty places. these hips
are free hips.
they don't like to be held back.
these hips have never been enslaved,
they go where they want to go
they do what they want to do.
these hips are mighty hips.
these hips are magic hips.
i have known them
to put a spell on a man and
spin him like a top
* The Onion asks
David Berman
to "to set [his] MP3 player to 'shuffle' and comment on the first few tracks that come up. No faking us out with cool playlists or skipping embarrassing tracks is allowed, so you, the reader, will be given access into the uncensored, private world of someone else's music library." Check it out.