Loving hand turns burning sand to water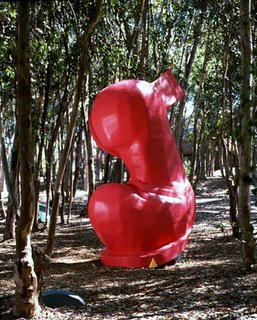 red shoe
, by elizabeth murray,1996
Three poems by Linh Dinh:
The Interstate
The Interstate is a generous and continous
System of multi-laned highways. It is never
Intersected, not even once, by a lessor road.
One needs not pause on one's life's journey
As long as one's travelling on the Interstate.
It is eternity made real and proven, a diagram
Of heaven (or hell) for the wordless masses.
Lapsarian Rag
We all know that sculptors
Enrich and litter this universe
With their masterpieces
But what about writers?
The filthy condos they build in our minds
Are also picturesque. And yet
Some of us would rather be an animal.
In nature films, the natives
Are always shunted
From the viewfinder.
Scratched Up
Writing your name means you exist and
You show your strength by how you write it
And you become immortal by writing on a wall
The Korean shopkeeper and the cholo say:
The soul is always in the line.
Forget the contents, look at the line.
Corporate signs are graffiti in neon.
I myself have takena class in Oriental calligraphy.
At the Pasadena Pacific Asia Museum
Under Yun Chung Chiang,
Himself a student of Pu Ju,
Brother of the last emperor of China.
* Pitchfork reviews The Caribbean's
Plastic Explosives
. The Caribbean will be playing with The Fake Accents, The Foreign Press and The Plums, March 4, 2006 @ DCAC.
* And, as today is Richard Yates' birthday, here's an old post on Yates. If you haven't, you should read his stuff:
Finished the Richard Yates biography last night. Its an amazing read -- his life was even more sad and lonely than you may even imagined if you have already read his fiction. A four-pack-a-day smoker who suffered from TB, and various forms of mental illness, Yates died alone, in a small dirty apartment (much like the roach infested apartments he lived most of his single life) in Alabama in 1992. For most of his life, he drank constantly (certainly more than many of his characters, who also seemed to always be drinking), and ended his life attached to an oxygen machine as his smoking caused him to get emphysema.
He divorced twice, and had three children -- to whom by all accounts he was a wonderful father despite all his other shortfalls. Even with all the money problems that plagued him throughout the years, Yates never missed a child support payment, and always enjoyed the time he had with the children. He was often loud and abusive to friends, and suffered no fools.
In addition to the wonderful, realistic fiction he created, his life intersected with some major political and entertainment events of the times.
In his 20s, as a PR writer, Yates wrote the ad copy for UNIVAC, the worlds first computer. In the 60s, he wrote some of Robert F. Kennedy's most moving speeches on civil rights (His final novel, "Uncertain Times," unfinished at his death, and published as a short story after his death in Open City, was on his time with Kennedy), and he was also the subject of an early episode of "Seinfeld."
[In the mid-80s, Yates' daughter dated Larry David (a huge Yates fan) briefly, and David based the 1990 episode ("The Jacket") on an awkward dinner with the writer. Yates played Elaine's father. In fact, Yates' daughter was the model for Elaine.]
In the Boston Globe, Dan Wakefield wrote:
"His fiction and his life were so intertwined that this biography of Yates reads almost like one of his own novels. The goodness and integrity of the man shine through his darkness, in his love of his daughters, his generosity of time and even what little money he made for his family, his dogged refusal to let rejection deter him from his path, and his total dedication to his art, which was the essence of his life, his reason to be.
"Yates himself could not have written a more bittersweet end to a story than the culmination of his lifelong obsession to be published in The New Yorker. After 30 years of ''shamelessly teasing me with encouragement,'' fiction editor Roger Angell wrote Yates's agent that ''his kind of fiction is not what we're looking for.' That is, until Yates died, when they published an early story of his they had rejected in 1952. On hearing this news, Yates's daughter Sharon went to the basement, where her father's ashes still rested in a box, pending a family decision on where to disperse them. She gave the box of ashes a shake and said, ''Way to go, Dad.''
Dust Congress doesn't ask you for much, dear readers, but we will here ask that you pick up some of Yates' books soon, if you haven't already (Dust Congress recommends "the easter parade," "revolutionary road," and the fantastic, recently published "the collected stories of Richard Yates.").
And after reading some of his fiction, find some time to read through the biography. It is, like his fiction, a sad read. A quote by Yates' hero Adlai Stevenson indicates a likely reason why Yates' books did not sell during his lifetime (Yates kept this quote on his desk): "Americans have always assumed, subconsciously, that every story will have a happy ending."
Looking back on his life, one is amazed that Yates was able to produce anything at all, much less nine books, and at least three modern American classics.