In this perfect water I have never been so free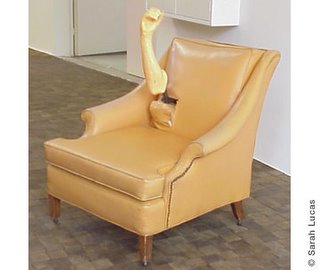 Sarah Lucas, Max's Wanking Armchair, 2000
* Dutch to return
art
seized by nazis. excerpt:
"In one of the largest restitutions ever of art seized by the Nazis, the Dutch government announced Monday that it would return more than 200 old-master paintings to the heir of Jacques Goudstikker, a wealthy Dutch Jewish dealer and collector who fled Amsterdam ahead of advancing German troops in May 1940.
"The works include oils by Jan Steen, Filippo Lippi, Anthony van Dyck, Salomon van Ruysdael, Jan Mostaert and Jan van Goyen that have been hanging in 17 Dutch museums and other government buildings since the 1950's. No immediate estimate of their market value was available.
...
"Since the mid-1990's, when attention turned anew to art looted by the Nazis from Jewish families and never returned to them, the only restitution larger than this one involved some 250 artworks returned to the Viennese branch of the Rothschild family by the Austrian government in 1999.
...
"Among the treasures singled out by experts are Steen's 1671 'Sacrifice of Iphigenia,' van Ruysdael's 1649 'Ferry on a River,' Isaac van Ostade's 'Winter Scene With an Inn by a Frozen Stream' and van Goyen's 1651 'View of Dordrecht.' Ronald de Leeuw, the director of the Rijksmuseum, which will surrender 15 paintings, identified two 'iconic' works: Daniel Vosmaer's 1663 'View of Delft' and Mostaert's 1540 'Episode From the Conquest of America.'"
*
the rude pundit
. excerpt:
"Here's the deal: in America, right now, the American Family Association, whose protests helped the NBC program Book of Daniel fail, got the network to drop its planned storyline in an episode of Will and Grace with Britney Spears as a conservative Christian TV host whose cooking segment is called 'Cruci-fixins.' The Family Research Council got the Department of Health and Human Services to delete any pages that asked for acceptance of homosexuals to help lower substance abuse and suicide rates among them.
"Some pencil-pusher in the Bush administration is tellin' NASA scientists that they have to call the Big Bang a theory so as to not offend the intelligent design lovers, who have so much science on their side. And let's not even get into the whole morning after pill controversy, or a thousand other scientific policy decisions that have been manipulated or forced by the fear of offending the religious right in America, the power of faith over reason.
"Oh, but no riot, right? Maybe not yet, but ask yourself: how much of a nudge would the nutzoid zealot mob outside of Terri Schiavo's clinic have needed before shit started being torched like scared villagers outside of Frankenstein's castle? Hell, some crazed cunts were calling for armed intervention.
"It's all about exploitation. Whether it's Donald Wildmon, James Dobson, Tony Perkins, or whoever, someone's gonna be there to manipulate people into believin' that their god is so much fuckin' bigger than everyone else's. Behind almost every action where someone's wielding a Bible or a Koran or Dianetics, there's someone who wants money and/or power, and he or she is gonna convince the least among them that their really big god needs him some lovin' and obedience by everyone goin' a little bugfuck insane.
"There's always a spark - shitty cartoons, icky queers, whatever - but behind any kind of mass action are always the same things: poverty, isolation, opportunism. For what is a riot but an expression of complete and utter frustration and disempowerment, a cry out that larger issues of oppression have overwhelmed a population. In this case, that frustration is with the West (and, let's say, and why not, the patriarchal Middle Eastern policies of the White House), as well as within each nation."
* Stop what you are doing and listen to
this
(or, why I love the Silver Jews bulletin board). Only in Utah? Guy calls women and asks for a date to the Harry Potter movie, then goes to church to pray she accepts.
* "Even our misfortunes are a part of our belongings." -- Antoine de Saint-Exupery