I hope we come up with a failsafe plot
to piss off the dumb few that forgave us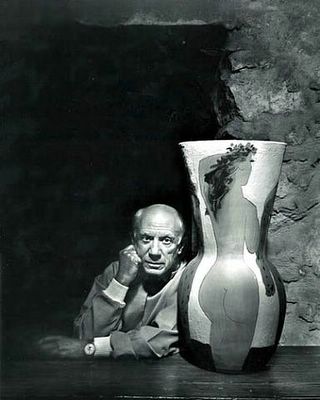 pablo piccaso, by yousuf karsh
* Top Ten
conservative idiots
. excerpt:
"2. Dick Cheney
"But let's dig a little deeper into this near-fatal face-shooting 'mishap.' In an interview with Fox News (more on that in a moment) the vice president said that this was the 'worst day of my life.' Thanks to DUer Stephanie, we can take a closer look at how the worst day of Dick Cheney's life panned out.
"First, Dick enjoyed at least one beer with his barbecue lunch at around 1PM. Then he went out and shot Harry Whittington at about 5:30PM. But rather than going to the hospital to see how his friend was doing, he went back to the house and, according to Katherine Armstrong, 'fixed himself a cocktail.' Then Armstrong, her brother-in-law, and a friend went to the hospital to check on Whittington while Dick Cheney had dinner. Armstrong said Cheney was 'very worried,' but apparently not worried enough to prevent him from going to bed at around 10PM.
"The next morning, the vice president decided that it might not be a bad idea if Katherine Armstrong were to tell the media that, you know, the vice president of the United States had shot a man in the face. He then sat down for a nice quail lunch. Finally, on Sunday afternoon, he went to the hospital to visit Whittington.
"So let's just recap the worst day of the vice president's life:
"SATURDAY MID-DAY: Barbecue, beer
SATURDAY AFTERNOON: Shoot man in face
SATURDAY EVENING: Cocktails, dinner
SUNDAY MORNING: Grudgingly inform media
SUNDAY MID-DAY: Quail lunch
SUNDAY AFTERNOON: Visit man in hospital
"Questions, questions. Did Dick Cheney have more than one beer before going out hunting? Why did he continue to consume alcohol after the accident? Why did he wait until Sunday morning to tell the media and meet with local police? America might not look too favorably on the vice president if it turned out that he had been boozing just before he shot a man in the face.
"But hey, it's not like Dick Cheney has a history of getting into trouble while drinking, right?"
*
stereogab
has collected all the flyers she made for the now defunct POTLUCK, and assembled them
here
.
She is also behind the flyers for the dcac shows -- mark your calanders for March 4, 2006 when
The Fake Accents
,
The Caribbean
,
The Foreign Press
and the Plums each play a set. More details to follow, see flyer to the right.
* Nashville's
Dave Cloud
signs with UK label Fire Records:
Legendary Nashville underground rock musician Dave Cloud has signed a multi-year recording contract with Fire Records in the UK. A European concert tour will coincide with the release of the first Dave Cloud album on the Fire label, Napoleon of Temperance.
The new album is scheduled for release in Europe on 17 April 2006 and will include selections from Cloud's first two U.S. albums, with a few new original songs. To support the new disc Cloud will embark on his first tour of Europe, with tentative dates in London, England and Bergen, Norway. Playing with Cloud will be members of his band The Gospel of Power, including musicians from Lambchop and Clem Snide.
After signing the contract Cloud remarked, "Sky humping and singing in my boxer shorts apparently were not in vain, as now I stand on the precipice of a real career."
* Jeff Stimpson on
Richard Yates
. excerpt:
"Yates was apparently his own worst enemy. He smoked incessantly, in and out of TB wards almost until the hour he hit that VA floor. He drank. He railed against the Ivy League elite. He pissed on a friend's house. He was carted from Bread Loaf Writers Colony in a straightjacket; the nervous breakdowns in Disturbing the Peace are pure autobiography (as was much of his fiction); and Blake Bailey, his lucky biographer, recounts how more than one girlfriend endured tirades from the man who once screamed he was the 'greatest fucking writer in America.' Weber knew him at the Yaddo writers' conference, where Yates was in a funk because some poet just published in The New Yorker read the manuscript of Easter Parade and thought it stunk.
...
"In 1983, something about an under-appreciated great writer appealed to me, and I called Yates. Couldn't believe I simply found him in the Boston phone book.
"'I'm trying to reach Richard Yates.'
"'This is Richard Yates.'
"'I'm trying to reach Richard Yates the writer.'
"This is Richard Yates the writer.'
"Jesus, it really was. First thing he did was ask me about my writing. Seven years I'd been at it, then. 'Oh,' he said, 'you're just a beginner.'
"He sounded gentle and quiet. He could be that way on first impressions. 'Nicest thing about me is my stories,' he once admitted to a therapist. My call also came about the time that Yates gave a reading at the University of Massachusetts, and not one person showed up. Indeed, Yates often shambled with no beaded vests to endear him to passersby. Once in the mid-1970s, groggy on anti-depressants and probably whiskey, he actually wandered around [my wife's] neighborhood in Manhattan until a doorman drove him off and called him a bum."
Again, if you haven't discovered the joy of Yates' fiction, grab the short stories, or Easter Parade or Revolutionary Road today.