tonight I'm swimming to my favorite island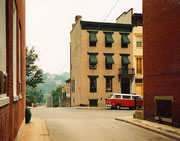 -- by stephen shore
* How Abramoff/Scanlon
got caught
. excerpt:
"Scanlon was implicated in the Abramoff scandal by his former thirtysomething fiancee, Emily J. Miller, whom he met in the late 1990s while working as communications director for former House Majority Leader Tom DeLay (R-TX), three former associates who worked with Scanlon at DeLay's office said. Colleagues say Miller went to the FBI after Scanlon broke off their engagement and announced his intention to marry another woman.
...
"Miller was DeLay's young press secretary and as communications director, Scanlon was her boss. The two began a secretive office romance and Scanlon eventually proposed marriage, associates say.
"In 2003, Miller left DeLay's office to work at the State Department. Scanlon departed too, partnering with now-indicted conservative lobbyist Jack Abramoff in lobbying for an array of Indian tribes. As Scanlon's star rose, troubles between the couple mushroomed.
"In May 2004, Miller found herself at the center of attention when—while live on air—she ordered a cameraman for NBC's Meet the Press to stop filming Colin Powell. A copy of the transcript shows Miller, who also used to work as an NBC staffer, as a brusque press aide. Powell eventually ordered that the interview continue and asked Miller to step aside.
"What many people didn't realize at the time, however, is that during the Powell interview Miller was upset because her fiancee, Michael Scanlon, had broken off their engagement, two of Miller's former State Department co-workers said. While still engaged to Miller, Scanlon had started an affair with a manicurist and broke up with Miller because he planned to marry the other woman, three of Scanlon's former associates at DeLay's office said. They added that the two had numerous public arguments.
"But Miller had something on Scanlon. He confided in her all of his dealings with Abramoff, former colleagues said. She saw his emails and knew the intimate details of his lobbying work—work which is now the center of a criminal fraud investigation. After the breakup, Miller went to the FBI and told them everything about Scanlon's dealings with Abramoff, her coworkers added."
* Short Review of TW#s by
Wit of the Staircase
(Great photo of Berman at the link).
"A serious and stylistically difficult generational classic I can only compare to Neil Young's 'Tonight's The Night.' The rural life is here, the overhanging death and addiction are here. The emotion is so big it's inescapable, thus singer David Berman can digress from seeing God's shadow on the world to a charming, Aesop-like vision of chickens in the farmer's Corvette with no loss of focus or force. All of it is sung in the voice of someone who has walked away from something he was supposed to die from.
"Berman has claimed his grown-up right to describe reality, and in these numbers he moves in and out of humor with a grace that proves that irony is a choice and that it does not have to be our generational last stand. All this is tangled up with a surprised holiness, like the guy in Denis Johnson's 'Jesus' Son' who wakes up from an overdose to find his girlfriend's dumpy apartment 'glittering like cheap jewelry' and himself alive, alive, alive."
* Italian judge orders priest to
prove christ existed
. [
via
]
* DC's
the fake accents
(which features DM from the fantastic
soi disantra
site. if you haven't been there, go. NOW.) play the Warehouse Nextdoor Sunday night. get out of the house and check them out.