time is the enemy time is the guide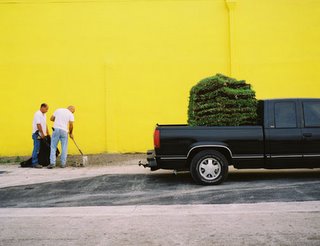 grass layers, by
sara padgett
A Child's Prayer for 2006
-- by anon.
It's cold and it's rainy
as the heart of Dick Cheney
in the first morning light of the year.
His belly's a puddle,
he bends over double
then laughs like the man in Cape Fear.
He sleeps in the ground
where he rumbles around
with a smile he stole from a sneer.
Hear my sunshine request
(my umbrella's a mess)—
Jesus, make the bad man disappear.
* Poems by Dana Goodyear
Things Get Better Before They Get Worse
I find you drinking bourbon
with a teenager—
let's not leave her out of this,
or the fact that you don't drink.
I command a river view,
and like a widow watch the boats;
my roommates trot their babies out
to make a wetnurse out of me.
Are you listening?
(No time for that—now let his hand
go at the fat part of your leg.
Now be a good girl and go back to bed.)
A stranger on the answering machine:
"I think I've got exactly what you're looking for.
Tons of light; water on three sides."
They ask after you at the garage;
I tell them little lies.
Séance at Tennis
I play with an old boyfriend, to tease you out.
In white shorts that you've never seen before.
You storm—wind, panic in the tree.
Rattling like the genius
like the jealous man.
Making it impossible to hit.
So nothing clears the net.
An inside joke, my comingback love:
He can't return, but you can?
After an hour, the court is swept, and reassumes
the waiting face of the bereft. But you—
the sky turns blue with your held breath.
The Undressing Paradox
My phantom companion
speaks German
and tells me to strip.
In one encounter he had ice-blue feet
and a fixed expression on his face.
The interpretation: I am letting go.
The drift is this.
give the hypothermic girl
a stiff hot drink.
The mouth of a stranger is a pocket of breathable air.
The spit is a warm vital flow.