I've been down so long it looks like up to me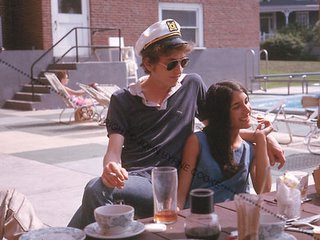 dylan with mimi farina at the Viking Hotel, Newport R.I., 1964
*
BioWillie
! [
via
] excerpt:
"Willie Nelson drives a Mercedes.
"But do not lose faith, true believers. The exhaust from Mr. Nelson's diesel-powered Mercedes smells like peanuts, or French fries, or whatever alternative fuel happens to be in his tank.
"While Bono tries to change the world by hobnobbing with politicians and Sir Bob Geldof plays host to his mega-benefit concerts, Willie Nelson has birthed his own brand of alternative fuel. It is called, fittingly enough, BioWillie.
"And in BioWillie, Mr. Nelson, 72, has blended two of his biggest concerns: his love of family farmers and disdain for the Iraq war.
"BioWillie is a type of biodiesel, a fuel that can be made from any number of crops and run in a normal diesel engine. If it sounds like a joke, a number of businesses, as well as city and state and county governments, have been switching their transportation fleets to biodiesel blends over the last year. The rationale is that it is a domestic fuel that can provide profit to farmers and that it will help the environment, though environmentalists are not universally enthusiastic about it.
...
Mr. Nelson is making his bet on biodiesel.
"'I don't like the war,' he said in the interview. 'In fact, I don't know if you ever remember a couple years ago, it was Christmas day, and my son Lukas was born on Christmas Day, he's like 16 years old, and we were watching TV and there was just all kind of hell breaking loose and people getting killed and I was talking to my wife, Annie, and I said, You know, all the mothers crying and the babies dying and she said, 'Well, you ought to go write that.' 'So I wrote a song called 'Whatever Happened to Peace on Earth?'
"He began to recite the first verse:
So many things going on in the world,
Babies dying, mothers crying.
Just how much oil is human life worth?
And whatever happened to peace on earth?
"'That upset a lot of people, as you can imagine,' he continued. 'I've been upset about this war from the beginning and I've known it's all about oil.'
[you can here the song
here
]
* Nastanovich on the Joos tour:
To all of those interested in Silver Jews 2006 tour:
We (the eight person Silver Jews touring party) are excited to start this new year by looking forward to our first tour of live performances. Alot of this "excitement" is nervous energy. Over the next few months, we will strive to soothe our nerves by working very hard on the original numbers we choose to learn. In addition to the grand Mr.& Mrs. B, we have assembled an enthusiastic and competent band. More than anything else, we hope those of you who attend one or more of these shows will enjoy the performances. We are reluctant as it will be arduous and, despite the band's lengthy career, live performance presents a challenge. If you buy a ticket, be sure that we'll try our bests. Bob Nastanovich (on behalf of Silver Jews March touring party. [from the SJBB]
* 25 Reasons to
impeach Bush
.
* Check out
In Bed
, by Australian sculptor Ron Mueck.