there's a blaze of light in every word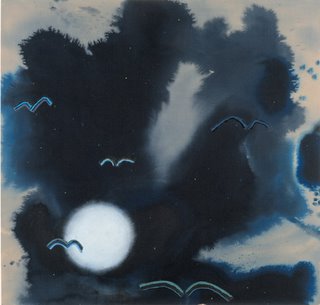 Laura Owens, Untitled, 2004
* Top ten
conservative idiots
. excerpt:
"5. Bill Frist
"As if being investigated by the SEC for alleged insider trading (see Idiots 220) isn't bad enough, a recent report on further dodgy dealings may ensure that Bill Frist will have a particularly miserable Christmas this year. Last week it was reported that the Senate Majority Leader's AIDS charity "paid nearly a half-million dollars in consulting fees to members of his political inner circle," according to the Associated Press.
"Tax returns show that the $4.4 million dollars raised by Frist's charity came from just 18 unknown donors, and only $3 million went to AIDS causes. The rest went to 'overhead,' which included '$456,125 in consulting fees to two firms run by Frist's longtime political fundraiser, Linus Catignani. One is jointly run by Linda Bond, the wife of Sen. Christopher 'Kit' Bond, R-Mo.,' again according to the AP.
"So why is Frist taking huge chunks of cash which is supposed to go to AIDS charities and giving it to his political fundraiser? Your guess is as good as mine. And if your guess is 'because Frist is an unethical crook,' then your guess is the same as mine."
* Black Book
lists
various artists' guilty pleasures. excerpt:
"David Berman/The Silver Jews
Shania Twain, Shania Twain's Greatest Hits
"Shania Twain's best album is Shania Twain's Greatest Hits. Roll back to 1996 with me if you would, when she was still hustling up and down the charts; a lot of her male fans, taking her highly realistic video come-ons literally, had energetic-outdoorsy-marriage-with-constant-sex fantasies about this brown-haired video squiggle dancing here on a sun-bleached dock in pink capris. From the panoply of North American sluts came this bride of the common man. While Madonna tended to bacterial outbreaks, Shania had a cup of coffee and a giggling proclivity for anytime fucking waiting for you when you got home.
"After your three minutes were up, the hardest part was retransitioning yourself to the reality that Shania didn't really love you in that sweater like you had her say to you in your mind. 'Get ahold of yourself,' said your inner success coach. 'She's into Mutt. Mutt makes her sound good. She's saving it all for Mutt. And they live on top of a mountain in Switzerland. You're just above sea level material, my friend, and you always will be.' Ultimately, guilt is not the word for this feeling. Shame is closer."
--
related
: Tickets for the Joos March tour are starting to go on sale, for more information,
clickhere
.
* New York Metro's 2005 book awards had a category for the
best first sentences
of the year. 'The Almond: The Sexual Awakening of a Muslim Woman,' by Nedjma, was voted number five. It starts:
"I, Badra bent Salah ben Hassan el-Fergani, born in Imchouk under the sign of Scorpio, shoe size thirty-eight, and soon to reach my fiftieth year, make the following declaration: I don't give a damn that Black women have delectable cunts and offer total obedience; that Babylonian women are the most desirable and women from Damascus the most tender to men; that Arab and Persian women are the most fertile and faithful; that Nubian women have the roundest buttocks, the softest skin, and passion that burns like a tongue of fire; that Turkish women have the coldest wombs, the most cantankerous temperament, the most rancorous heart, and the most radiant acumen; and that Egyptian women are soft-spoken, offer kind-hearted friendship, and are fickle in their constancy."