his mind's the only thing he's blown apart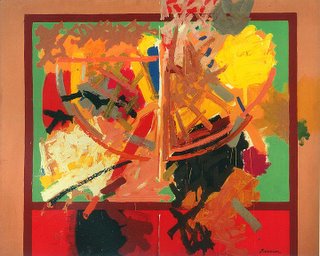 John Ferren, Greenock, 1958
Epitaph On A Tyrant
-- by W.H. Auden
Perfection, of a kind, was what he was after,
And the poetry he invented was easy to understand;
He knew human folly like the back of his hand,
And was greatly interested in armies and fleets;
When he laughed, respectable senators burst with laughter,
And when he cried the little children died in the streets.
Jazz Chick
-- by Bob Kaufman
Music from her breast vibrating
Soundseared into burnished velvet.
Silent hips deceiving fools.
Rivulets of trickling ecstacy
from the alabaster pools of jazz
eyes more atriculately silent
than medusa's thousand tongues.
a bridge of eyes, consenting smiles
reveal her presence singing
of cool rememberance, happy balls
wrapped in swinging
jazz
her music....
jazz
At This Moment Of Time
-- by Delmore Schwartz
Some who are uncertain compel me. They fear
The Ace of Spades. They fear
Loves offered suddenly, turning from the mantelpiece,
Sweet with decision. And they distrust
The fireworks by the lakeside, first the spuft,
Then the colored lights, rising.
Tentative, hesitant, doubtful, they consume
Greedily Caesar at the prow returning,
Locked in the stone of his act and office.
While the brass band brightly bursts over the water
They stand in the crowd lining the shore
Aware of the water beneath Him. They know it. Their eyes
Are haunted by water
Disturb me, compel me. It is not true
That 'no man is happy,' but that is not
The sense which guides you. If we are
Unfinished (we are, unless hope is a bad dream),
You are exact. You tug my sleeve
Before I speak, with a shadow's friendship,
And I remember that we who move
Are moved by clouds that darken midnight.
Having Lost My Sons, I Confront The Wreckage Of The Moon: Christmas, 1960
-- by James Wright
After dark
Near the South Dakota border,
The moon is out hunting, everywhere,
Delivering fire,
And walking down hallways
Of a diamond.
Behind a tree,
It lights on the ruins
Of a white city
Frost, frost.
Where are they gone
Who lived there?
Bundled away under wings
And dark faces.
I am sick
Of it, and I go on
Living, alone, alone,
Past the charred silos, past the hidden graves
Of Chippewas and Norwegians.
This cold winter
Moon spills the inhuman fire
Of jewels
Into my hands.
Dead riches, dead hands, the moon
Darkens,
And I am lost in the beautiful white ruins
Of America.
* Frank Zappa
would have been
65 today. RIP Frank.