when I go downtown I always wear a corduroy suit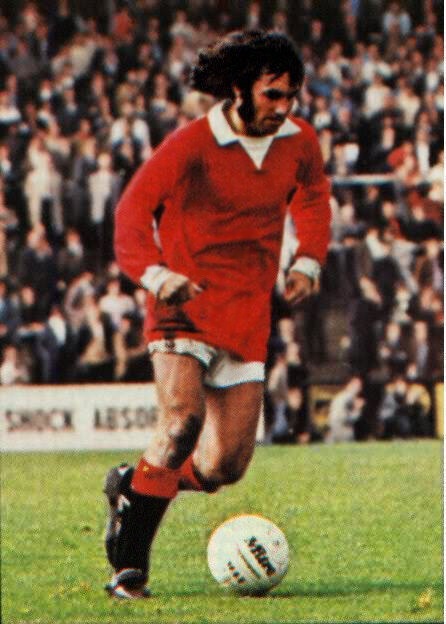 *
George Best
, "is a desperately ill man." He has been
hospitalized
since October 1, and has been on life support for three days but gradually brought out of sedation.
"Phil Hughes, Best's agent, said this morning that his friend was showing some signs of improvement. Mr Hughes said: 'He's had a stable night. Nothing much has changed, which in itself is good news. Last night he briefly opened his eyes for a second but he's not awake. They are still waiting for him to come round.'"
"Regarded as one of the most talented players of all-time until his retirement at age 26, Best was renowned for his standout dribbling skills and memorable goals. He helped Manchester United win the European Cup in 1968.
"Best's career was marred by his wayward lifestyle - his womanizing led to a divorce from second wife Alex a year ago - and he continued to drink heavily after his liver transplant."
--
related
: "Pele called me the greatest footballer in the world. That is the ultimate salute to my life." -- George Best
* Another former Judge calls the
drug war
a failure. excerpt:
"North Carolina should consider decriminalizing illegal drugs as it tries to stem the need for additional prisons, a former state Supreme Court chief justice said Monday.
"Burley Mitchell, the state's top judge from 1995 to 1999, said the war on drugs in North Carolina and nationwide has been 'a total failure' that has filled up prisons."
...
"'What if we decriminalized drugs? Then you'd knock out all of the profits of every dealer and more to the point, the big producers,' Mitchell said at a Raleigh luncheon crowd interested in prison reform. Drug demand also would go down due to lower supplies, and drug-related crimes such as robbery and murder also would fall, he said."
* Graham Green and
scrabble
. [
via
] excerpt:
"The playwright Michael Meyer travelled around the world with Greene in the 1950s. Greene had promised opium-smoking and other tropical decadences, so Meyer was disappointed to find that Greene had packed a portable Scrabble board. The nightly Scrabble games almost ruined their friendship.
"The problem, according to Meyer, was that Greene's spelling was 'deeply dubious,' and the pair did not have a dictionary. During a stay in Tahiti, Greene produced the words 'zeb,' which he claimed was an Elizabethan word for 'cock,' and 'quoign' which he insisted was Shakespearean, quoting: 'Yon castle's quoign that Duncan's spirit haunts.'
"Meyer thought the line was as dubious as Greene's spelling and, in the sultry Tahitian nights, tempers frayed. The pair were still arguing when they reached San Francisco, months later. They ran straight from the ship to a second-hand book store and found a dictionary.
"The word was in, spelled 'quoin,' which satisfied Greene, though as Meyer pointed out, 'quoin' would not have landed on a triple letter score."