listening to the crack of doom on the hydrogen jukebox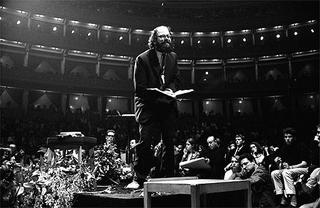 allen ginsberg, reading at royal albert hall, 1965
* Looks like
Cheney
is in more trouble than previously thought. excerpt:
"I. Lewis Libby Jr., Vice President Dick Cheney's chief of staff, first learned about the C.I.A. officer at the heart of the leak investigation in a conversation with Mr. Cheney weeks before her identity became public in 2003, lawyers involved in the case said Monday.
"Notes of the previously undisclosed conversation between Mr. Libby and Mr. Cheney on June 12, 2003, appear to differ from Mr. Libby's testimony to a federal grand jury that he initially learned about the C.I.A. officer, Valerie Wilson, from journalists, the lawyers said.
"The notes, taken by Mr. Libby during the conversation, for the first time place Mr. Cheney in the middle of an effort by the White House to learn about Ms. Wilson's husband, Joseph C. Wilson IV, who was questioning the administration's handling of intelligence about Iraq's nuclear program to justify the war."
* "Man created god, the inverse remains to be proven."
Serge Gainsbourg: The Obscurity of Fame
.
[via]
excerpt:
"Gainsbourg mastered the art of scandal better than anyone, including Malcolm Mclaren, because it was written into his DNA -- Born To Raise Hell; he just couldn't help it. 'For me provocation is oxygen.' He once said. He enjoyed his notoriety but still managed to seduce people with his humanity. With his cig-dangling-from-lips, lecherous persona, his poignant lyrics, and nihilism he was able to speak the unspeakable, once even proclaiming, 'I wanna fuck you,' to Whitney Houston on live TV. He walked that jittery tightrope between outcast and pop star -- marginal yet marketable; every indie rocker's dream -- or scheme.
"Gainsbourg was the kind of culture hero that seldom exists in America. His death of a heart attack on March 2, 1991, for instance, warranted something of a national day of mourning in France. But Gainsbourg remains almost totally invisible in America, a misunderstood rumor at best despite the recent efforts by Luna, Luscious Jackson, and Mick Harvey (also of Bad Seeds fame) whose English versions of Gainsbourg songs on his Intoxicated Man reminds us how little we know about him.
"'The idea to make this record began from a combination of personal curiosity about Gainsbourg's material (particularly his lyrics) and a growing bewilderment that his work is virtually unknown outside French speaking countries,' Mick Harvey explains in his liner notes. "
* from
Harper's
:
-- Number of journalists killed in Vietnam during the twenty years of war there: 63
-- Number killed in Iraq since March 2003: 71
-- Average number of new blogs created each second: 1
-- Amount Americans spent last year on fantasy football: $2,079,000,000
-- Number of consecutive years that the U.S. median income has failed to increase: 5
-- Number of consecutive years that the percentage of Americans living in poverty has increased: 4