in the end we must be who we are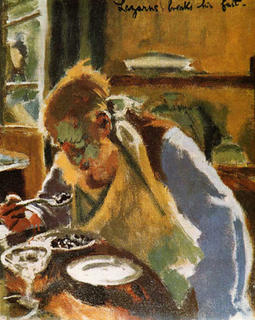 Walter Sickert, Lazarus Breaks His Fast: Self-Portrait, 1927
* Indictments
on the way
. excerpt:
"Indictments in the CIA leak investigation case are expected to be handed down by a grand jury on Wednesday, bringing to a head a criminal inquiry that threatens to disrupt seriously President George W. Bush's second term.
"On Tuesday night, news reports, supported by a source close to the lawyers involved in the case, said that target letters to those facing indictment were being issued, with sealed indictments to be filed on Wednesday and released by the end of the week.
...
"However, Frank Luntz, Republican pollster and strategist. said: 'If [Fitzgerald] indicts, they [the White House] will have no choice but to attempt to demonise him. I think that is going to be really, really tough.'"
* There's a lot of pot
in Kentucky
.
"While Kentucky is the 'Bluegrass' state, authorities are finding plenty of another kind of grass, the illegal variety.
"State police say they've confiscated more than $1 billion worth of marijuana this year. Kentucky traditionally ranks among the top five states in illegal marijuana production. Troopers say they would have found even more pot farms but for Hurricane Katrina. National Guard helicopters used to search Kentucky hills for pot were sent to the Gulf Coast for hurricane relief.
"One official says there's so much pot grown in Kentucky that if every Kentuckian were to smoke a joint an hour, they couldn't use it all."
* Helena Frith Powell picks the best
French erotica
. excerpt:
"3. The Ravishing of Lol Stein by Marguerite Duras
Possibly the maddest book ever written, but the title alone makes the book worthy of inclusion on this list. Voyeurism, lesbian leanings, broken hearts and adultery: what more could you ask for?
"4. Bonjour Tristesse by Francoise Sagan
The sound of cicadas and the smell of suntan oil jumps off the pages. Is there a sexier location in the world than the south of France? Not only are the teenagers getting down and dirty, the grownups are too. As the young narrator says, "Fidelity is arbitrary and sterile." - a mantra her father lives by. This sexy, poignant, moving and brief book is a must. If you read only one book on this list, this should be it."
* "The whole problem with the world is that fools and fanatics are always so certain of themselves, but wiser people so full of doubts." -- bertrand russell
* Plums, best band in DC without a website, are playing tonight at DC9. 10pm. get there.