find some respite in the whiskey-induced holy unending night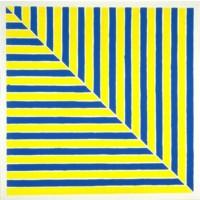 Frank Stella, untitled, 1964
From Disaster
-- by George Oppen
Ultimately the air
Is bare sunlight where must be found
The lyric valuables. From disaster.
Shipwreck, whole families crawled
To the tenements, and there
Survivied by what morality
Of hope
Which for the sons
Ends its metaphysic
In small lawns of home.
A Theological Definition
-- by George Oppen
A small room, the varnished floor
Making an L around the bed,
What is or is true as
Happiness
Windows opening on the sea,
The green painted railings of the balcony
Against the rock the bushes and the sea running
the trash can
-- by charles bukowski
this is great, I just wrote two
poems I didn't like.
there is a trash can on this
computer.
I just moved the poems
over
and dropped them into
the trash can.
they're gone forever, no
paper, no sound, no
fury, no placenta
and then
just a clean screen
awaits you.
it's always better
to reject yourself before
the editors do.
especially on a rainy
night like this with
bad music on the radio.
and now--
I know what you're
thinking:
maybe he should have
trashed this
misbegotten one
also.
ha, ha, ha,
ha.
Self
-- by Dan Chiasson
Found not founded. Attacking only
from the back
like the Bengal tiger; afraid
of the face. Sweet-talking like the addict
coveting
another addict's stash. Fished from
my own trash like the feared
letter I heard later
held a birthday check.
Watched like the tiger from
a great height,
hollered out. Two-faced, masked
like the villager tricking
the tiger. Tricked
like the tiger. Founded on owned ground.